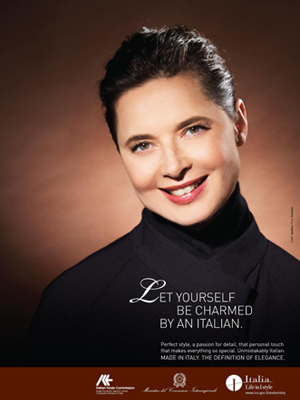 DALLAS, Jan 27, 2008 / FW/ — In two weeks time, Milano Moda Donna (Milan Fashion Week) starts in three weeks, about the time that the 'Let Yourself Be Charmed by an Italian' campaign has gathered momentum. The dates are perfectly timed with the fashion world focusing in Milan about the time that Isabella Rossellini had worked her charms.
It's a brave and challenging fashion world for 2008. The U.S., a traditional luxury market is on the brink of recession; the green initiative has reached the big fashion houses even in Milan with Bottega Veneta, Marni, Moschino, Prada and Versace on the spearhead, joined by Burberry, Calvin Klein and Jil Sander, which though not based in Italy unveil their collections in Milan.
Taking being politically correct aside, (i.e. regarding the green initiative), and taking into consideration the strong euro against the weak U.S. dollar, Italian houses are faced with challenges they have not faced before.
An intensely aware world via mass communications, wherein news travel at internet speed and actually could travel faster via mobile phones' text messaging or phonecasting, fashion houses and designers have to truly focus on their target clientele while expanding their market share; and that is just one-half of the equation.
The other half of the equation is the creativity and innovations on the new collections. As very visible leaders of the fashion industry, whatever path they take, the others will follow.
Now, more than ever, all eyes will be on Milano Moda Donna!