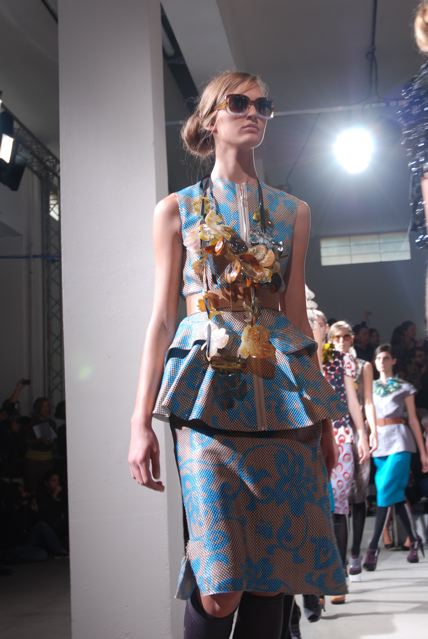 MILAN, Sep 25, 2008 / FW/ — With circles and other geometric figures as the theme that held the collection together, Consuelo Castiglioni woke up the editors and buyers in her 9:00 AM show, bringing smiles to their faces and made waking up early all worth it.
Sending circles as polka dots on fabrics, as quilted rosettes, even techno quilts; Consuelo Castiglioni envisions a sportive romantic look for the future. Color block, argyles, even a diamond lattice, it was geometric high fashion.
Using a wide spectrum of colors, beginning with all the colors of the rainbow, Castiglioni said no to the neutral shades that had been dominating the runway from New York all the way to Milan. Thus, though these colors are not botanical shades, the hope that spring brings is also Marni's message.
On a personal note, while writing this article, my email news alerts arrived with the information about George W. Bush's message last night on American television. The U.S. President is asking for support for the government bail out of Wall Street.
With all these doom and gloom on the wire from back home, it was good to be reminded by Marni's upbeat collection. Somehow, it took away some of my apprehensions, no matter how fleeting it maybe.
[SARA CONDE with additional reporting by LISA HELM]
Photos by LISA HELM
Related Post:
Milan Fashion Week Spring 2009