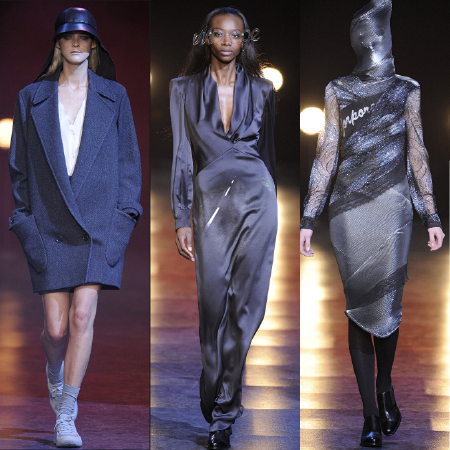 PARIS, March 12, 2010/ FW/ — With each exit symbolizing a U.S. state or city, Hussein Chalayan began his American journey from New York City and ended in the other City of Lights, Las Vegas.
The adventure begins in New York with a practical, though manly shoulders, a long double-breasted coat with capacious pockets. It goes well with a white silk blouse and beige trainers.
New Mexico was personified as a colorful leather jacket in red, pink, white and gray. In Utah there is nothing better than a warm poncho with an asymmetrical bottom and wide-brimmed hat! Los Angeles represented in long flowing silk dresses with deep necklines and outright cuts.
And, of course, Las Vegas, the other City of Light, the other City that Never Sleeps, greets us with dazzling lights and all kinds of promises! Apparently so, the designer has replaced star sunglasses on plastic inscription "Mirage".
Evening dresses were lavishly embroidered with crystals, Swarovski, is the best displayed the brilliance and luxury of the most alluring cities in the world!
[LIDIA BARDINA]
Photos by Chris Moore