LOS ANGELES, Apr 14, 2010 / FW/ — "And I will make thee beds of roses, and a thousand fragrant poises, a cap of flowers and a kirtle embroidered all with leaves of myrtle," said the Passionate Shepherd to his love.
Written 400 years ago by Christopher Marlowe, the sentiment is still the same today. Even in this era of social networking, saying everything with flowers still brings out the romantic in all of us. Jennifer McGarigle, founder and designer of Venice, California-based Floral Art believe in that philosophy, even live it daily.
"Living with flowers is a commitment to being present and enjoying the moment all year round. Whether the flowers are in a vase, or on a piece of furniture, they're a daily reminder of beauty. And beauty makes us happy," says Jennifer McGarigle whose 3,500 square foot flower emporium houses the Floral Art boutique and design studio.
Through floral arrangements, store installations, event décor, and home furnishings, Floral Art celebrates the power of the flower.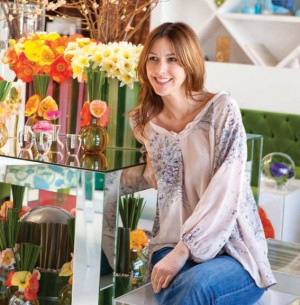 And its latest celebrant is the handmade Floral Lace Chair that is made entirely of clear Lucite, Venetian lace and silk upholstery.
Ensconced in delicate fabric, the chair brings wardrobe to furnishings, merging timeless fashion with sleek form. The chair retails for $2400 and custom options are available.
Other chairs to choose from include the Poppy Cafe Chairs. Made of clear Lucie back, high gloss white wood finish frame and legs and white faux leather upholstery, it measures 18 ½"W x 22"L x 39"H. Retails for $1,500 each
[MARIKIT YAMATO]
Photos courtesy of Floral Art