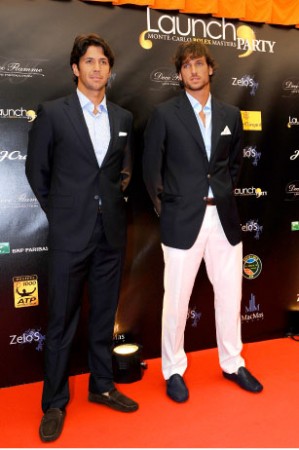 MONTE –CARLO and PARIS, Apr 12, 2010 / FW/ — With the prestigious Monte-Carlo Masters Series currently going on in Monte Carlo, the world's most prominent tennis players are in town.
Seen last April 10th attending the opening party at the Zelos were Rafael Nadal, Noval Djokovic, Feliciano Lopez and Fernando Verdacco who were all wardrobed by Faconnable.
Created in 1897, the Monte-Carlo Masters Series is one of the most prestigious events within the ATP tennis circuit on hard-packed surface and the 104th edition slated from April 10 – 18, 2010.
Faconnable, which is based in Nice, France, is once again participating in the Monte-Carlo Masters Series as a main sponsor, signing up for the next three tournaments until 2012.
A pioneer of elegant sportswear for any occasion, Faconnable for the second time has designed an exclusive Monte-Carlo Rolex Masters Series to outfit all of the linesmen. All of the members of the steering committee during the tournament will also be wearing Faconnable.
The exclusive Faconnable MCCC collection for men and women will also be offered at the Faconnable shop within the Monte-Carlo Rolex Series Village, as well as in all flagship stores and selected retail stores worldwide. The collection will include tennis, lifestyle apparel, performance and lifestyle footwear and accessories for men and women.
Faconnable was founded in the 1950s by Jean Goldberg, immediately becoming one of the most celebrated menswear brands worldwide. Its known for its formidable heritage and outstanding craftsmanship.
[SARA CONDE]