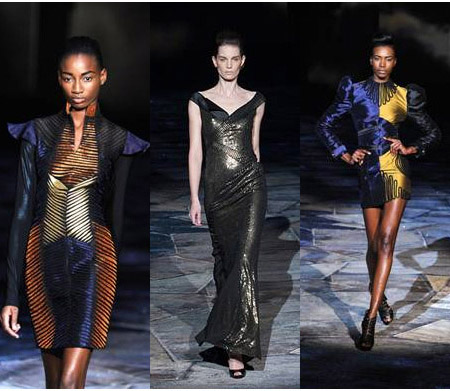 NEW YORK, NY, April 29, 2010 – Deola Sagoe, Nigeria's leading designer and arguably today's most prominent name in African fashion, has set her sights on launching her brand and likeness in the United States.
Already a formidable force in Africa's fashion world, Deola Sagoe was one of three designers chosen to participate in Arise Magazine's African Collective in Bryant Park for Mercedes-Benz New York Fashion Week F/W 2010.
Unanimously declared best in show, Deola was the night's only designer to receive a standing ovation. Sagoe's strong presence at the tents has culminated in a storm of press, including the current cover of Marie Claire South Africa May 2010. Dedicated entirely to her designs, the cover shows three of South Africa's top supermodels baring looks from the designer's recent Bryant Park show.
Deola Sagoe is the 2000 recipient of the African Designs and MNET/Anglo Gold African Designs 2000, nominated by Vogue's Andre Leon Talley. She has participated in fashion shows in America, Europe, and Africa alongside Donna Karan, Chanel, Ralph Lauren, and Missoni. Deola has dressed "Who's Who" of African royalty and elite, including supermodels Naomi Campbell, Liya Kebede, Alek Wek, and Oluchi.
Deola is known for her dynamic couture pieces and range of vibrant prêt-a-porter collections. Combining trademark African components (hand-woven fabrics including aso-oke and raffia, vivid color combinations, bold fabric mixing, and hand-beading and embroidery ) while infusing a hyper-modern, European edge, Deola's look is strongly rooted in her African culture yet speaks to the 21st century and beyond.
For Fall Winter 2010, Deola's collection was inspired a mix between East African Maasai warriors and 18th century European military uniforms, mixing a blend of ethnic accents and military silhouettes.
A designer for over 12 years, Deola Sagoe has established herself as a voice to be reckoned with. As she refocuses her energies on capturing the US market, she hopes to introduce her name and lifestyle not only as an African brand, but as a global entity. Based on the response so far, it seems safe to say that Deola Sagoe's influence will not only go unnoticed, it will rock the industry for years to come.
Deola Sagoe's Fall Winter 2010 collection will be available for preview By Appointment Only, May 1 – 30, 2010 at EDITE Showroom. Contact: (212) 967 0202