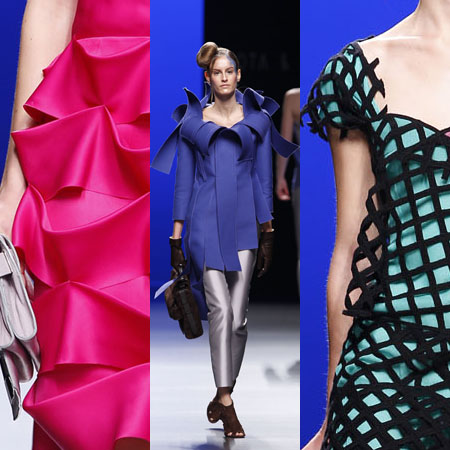 MADRID, Apr 13, 2010 / — For Fall 2010, Devota & Lomba created garments that take the shape of rhythmical waves and broken geometries with an organic base.
Some recall marine animals or future beings, always with an emphasis on the emotional nature of a "unique piece" where the functional, which is only one part, and the colour do not end up defining the object.
Colour is a complementary element combined with shape. Grey and black serve as the base for saturated colours: cold yellow, deep magenta, green and cobalt.
Accessories represent the idea of a personal and endearing object like a small sculpture, in keeping with the line of the garments. The outcome is a perfect balance between order and chaos, background and shape, adornment and functionality, which expands Devota & Lomba's universe once again.
Fabrics: gauzes, cheesecloths, organdies, organzas, silk mikados and woollen cloths. Saga Royal grey fox.
Accessories: aged sheepskin, oilskin, smooth and printed suedes.
Photos courtesy of Cibeles Madrid Fashion Week
Cibeles Madrid Fashion Week Fall 2010