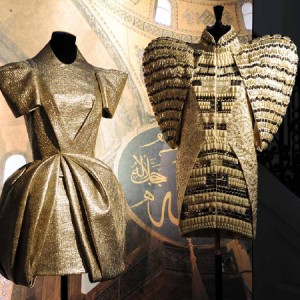 PARIS, Apr 28, 2010 / FW/ — Turkish designer Ece Ege has always been in love with her native Istanbul and it shows in her work.
Since the inception of her label Dice Kayek in 1991, the inspiration for the collections has always been Istanbul and its landmarks, plus of course the rich history of the city when it used to be called Byzantium and Constantinople.
The wealth and luxury of the East, complex embroidery, architectural style and the exotic have symbolized the Dice Kayek brand for many years. In 2005, extending that design philosophy to accessories, Ece Ege launched the Dice Kayek lines of shoes and bags.
For Fall 2010, Ece Ege mined the Byzantine period in the history of Istanbul. Drawing from one of the most beautiful churches in the world, the Cathedral of St. Sophia, Ece Ege used gold, embroidery, crystals and rhinestones in harmony with the severity of draperies and high, pointed geometric, sleeves and shoulders.
[LIDIA BARDINA]
Photo courtesy of Dice Kayek