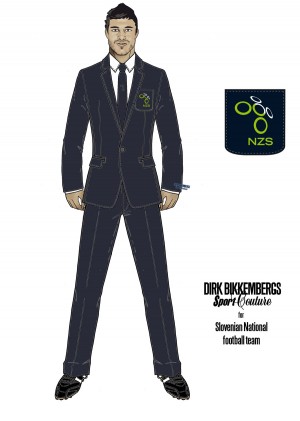 ANTWERP, Apr 23, 2010 / — With the support of its local distributor The Sportina Group, Dirk Bikkembergs has signed an agreement to dress the Slovenian national football team NSZ (Nogometna Zveza Slovenije) until June 2011, with an option to extend the contract.
According to the agreement, Dirk Bikkembergs will dress the players and the supporting staff for their official team appearances. The accord takes effect in May 2010, and will see the entire team and supporting staff dressed by Dirk Bikkembergs for their official team appearances off the pitch.
The new team outfit includes a blue single-button suit with the team's logo embroidered on the chest pocket, and a complementary blue tie with the same logo and a white shirt – all by Dirk Bikkembergs Sport Couture. To complete the outfit, there are black Bikkembergs sneakers, which also feature the team's logo.
With a population of just two million, Slovenia is the smallest nation to have qualified for the South Africa 2010 FIFA World Cup, where Slovenia will be competing against England, USA and Algeria in Group C.
In line with past collaborations with Inter Milan and recently Toronto FC, Dirk Bikkembergs will leverage on the brand connection with the Slovenian national football team as it further expands its activities on the local market.