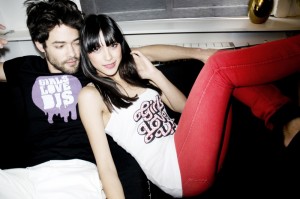 DALLAS & AMSTERDAM, Apr 21, 2010 / FW/ — A clothing label that was iconic from the first day it was launched, Girls Love DJs started as a t-shirt gifted to DJs by Amsterdam's in-crowd when they hold parties.
Tracing its beginning in 2002, GirlsLoveDJs started out as a DJ agency evolving into an iconic dance brand focusing on music and throwing the best parties in the world.
The GirlsLoveDJs Clothing line was a by-product of the party lifestyle. With the top DJs wearing the logoed t-shirts, the partygoers wanted them, too. To cater to this huge demand, the GirlsLoveDJs Clothing line was born in 2007, selling ten thousand of the classic tees on its first year.
And like the original DJ agency that evolved also into a record label, the clothing line also evolved from its original t-shirt offering to now include jackets and blousons with plans for expansion in its offerings.
GirlsLoveDJs is still far from being a full-pledged fashion line, it's "Party all day, party all night" mantra continues to be its biggest draw.
[MARI DAVIS]
Photos courtesy of GirlsLoveDJs