MILAN, Apr 16, 2010 / FW/ — Yesterday, Just in time for Salone de Mobile in Milan, Henry Cotton's inaugurated its first boutique in the Italian fashion capital with the store reflecting the "Best of Henry Cotton's Britishness."
Designed by Anouska Hempel through her firm Anouska Hempel Design, the interior and architecture of Henry Cotton's brings front and center the landscape of English traditions – from Savile Row to the Henley Regatta.
Located in the fashion district of Milan, Corso Venezia, 7, the boutique measures 400 square meters on three floors, decorated with giant oars giving impetus to the building.
With a spiral staircase that goes along the entire height of the building as a main feature, it allows the customers to pass through a series of scenes that offers dynamic views of the various spaces inside the store. Then, at the center of the atrium, the elevator-shaped balloon basket brings customers from the ground floor to the next floors.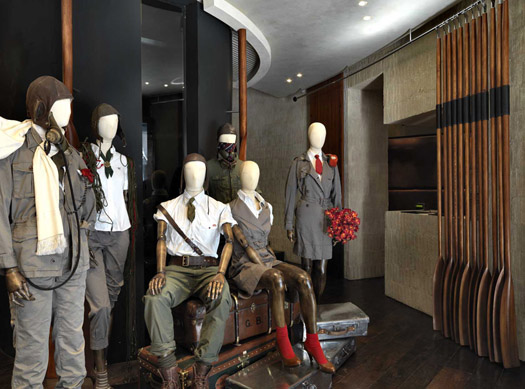 The choice of materials guarantees solidity to the structure and space: brick, stone, plaster and wood were chosen to improve with time and usage. Many of the details, such as parquet floors and stairs aged in oak, has been obtained from sources of recovery in the UK and have been beautifully restored and reinstalled in the building to enhance the sense of height and time. Other materials such as polished chrome, the ground glass, leather and fabric upholstery care emphasize craftsmanship of traditional English heritage.
The building is furnished with custom furniture designed to highlight the variety of products craftsmanship Henry Cotton's. Exhibitors are treated in detail and implemented according to original plans to travel trunks of materials, from leather to chrome and shiny metal boxes decorated, arranged on each floor. This reference is reinforced by the use of real vintage items that come directly from English country houses, schools and universities and are mixed with scenes from exposure.
Scattered throughout the store are typical British vintage accessories: hockey sticks, wooden skis, bags and boxing gloves, sports trophies, the traditional Scottish sporran handbags, mirrors framed in leather, silver teapots up the oars on the walls.
Remo Ruffini, President of Cotton's brand, said: "Anouska Hempel is the 'Britishness' of the brand Henry Cotton's and was therefore the natural choice for the design of the boutique. Her attention to detail and her ability to realize the dreams have created a boutique that represents an icon for Henry Cotton's. "
[SARA CONDE]