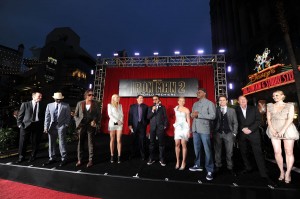 LOS ANGELES, Apr 27, 2010 / FW/ — Last night, at the El Capitan Theater in Los Angeles, Iron Man 2 premiered with its all star-cast in attendance.
Robert Downey Jr., Gwyneth Paltrow, Don Cheadle, Scarlett Johansson, Sam Rockwell, Mickey Rourke, Samuel L. Jackson, Garry Shandling, Leslie Bibb, Jon Favreau, Clark Gregg plus the movie executives and a surprise appearance by Playboy founder Hugh Hefner who just donated $900,000 to save the Hollywood sign, made the Iron Man 2 premiere more than just another movie debut.
Interestingly enough, the two female stars Gwyneth Paltrow and Scarlett Johansson wore white! During the photo call, both of them wore gray. Twice in a row they chose the same color. This is no longer a coincidence.
I do believe that it is planned so that people will talk about it. Red carpet fashion has truly turned into a sport!
Iron Man 2 hits theaters May 7th and expected to be this summer's blockbuster.
[MARIKIT YAMATO]
[nggallery id=286]
[nggallery id=287]