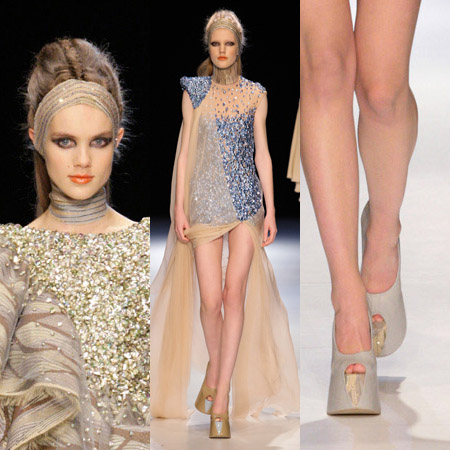 PARIS & DALLAS, Apr 20, 2010 / FW/ — Unveiled first in Paris during haute couture week, Jantaminau's "Duality" collection was also shown at Amsterdam International Fashion Week.
Duality, as designer Jan Taminiau sees it "praises the powerful woman that, in all her beauteousness, is not afraid of seduction and conquest."
Dressing women in seductive garments, their profiles emphasized by a full-face band, their hair brushed up and worn like a crown, Jan Taminiau sees beauty as a woman's weapon and their clothes as their armor.
Duality is also about the duel between different cultural traditions, heritage and innovation; a duality of seduction and repulsion, unveiling and hiding.To illustrate that, Taminiau used different materials and fused soft and hard into one. The sturdy hand woven Obi fabric from Japan, with its endless details, is used for sculptural forms.
The fabrics have been heavily embroidered by hand with multiple layers of sequins, beads and "Swarovski" crystals, forming reliefs that transcend their two dimensional form and remind of endless organic landscapes.
[MARI DAVIS]
Photos by Peter Stigter, courtesy of JANTAMINIAU