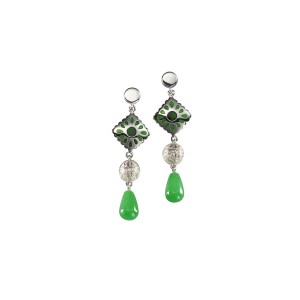 DALLAS, Apr 22, 2010 / FW/ — According to a recent survey by the National Retail Federation (NRF), 26.2% of people plans to buy a special bracelet or earring for Mom on Mother's Day. Others will gift her with clothing or accessories (28.4$) and of course, majority (51.8%) will treat Mom to a brunch or dinner.
Speaking of earrings for Mom, Shanghai Tang's Spring Jade Silver Earrings ($285) will be a great addition to her jewelry collection with the added bonus of being a good luck charm.
If she likes to read, the magpie enameled bookmark will be the envy of her book club. Or if you want to make sure that she has her handbag always in her line of sight, the Lotus Handbag Holder ($65) will be a practical and beautiful gift.
All of these and more are from Shanghai Tang, the first luxury brand emerging from China. Its design mission is to revitalize Chinese innovation and to interweave it with the dynamism of the 21st Century.
[MARI DAVIS]