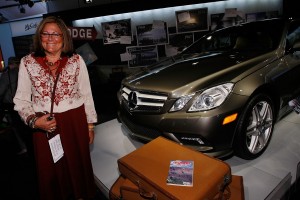 Fern Mallis Leaves IMG
NEW YORK, Apr 29, 2010 / — Fern Mallis has resigned from her post as Senior Vice President of IMG Fashion to form her own consulting and advisory firm, Fern Mallis LLC, the Daily Front Row, official publication of New York Fashion Week reported yesterday.
Mallis is directly responsible for the founding of New York's Fashion Week, which she conceived and executed during her tenure as executive director of the CFDA. The first fashion shows to be held, collectively, in New York's Bryant Park were held in 1993.
"I am ready to be starting my own company and look forward to advising and consulting on a wide variety of style, fashion, media and lifestyle programs, initiatives and branding strategies in the US and around the world," Fern Mallis told The Daily Front Row. "It's time for me to participate in the exciting world outside 'the tents'."
***
Tiffany to Relocate New York Offices
NEW YORK, Apr 29, 2010 / — Tiffany & Co. is moving its headquarters staff to 200 Fifth Avenue (at 23rd Street), a building formerly known as the International Toy Center.
Currently, Tiffany's headquarters' staff is located in three separate locations in midtown Manhattan and the move, expected to occur in spring 2011, will enable Tiffany to consolidate all personnel in one location and generate occupancy savings.
"This is an excellent opportunity to lock in meaningful long-term savings in occupancy costs, and to gain efficiencies from housing everyone in one location. We are also pleased that the renovated 200 Fifth Avenue building, which recently celebrated its centennial, is expected to be designated a "green".