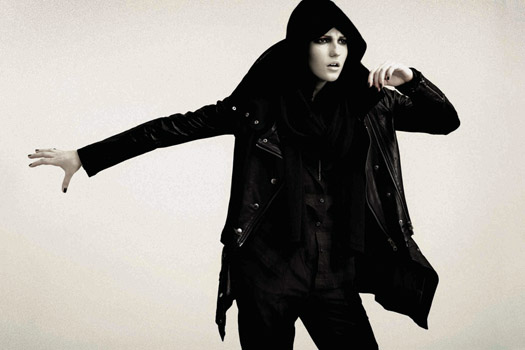 NEW YORK, Apr 19, 2010 / FW/ — Titling her collection "Urban Nomad", designer Nicholas Kunz created looks that appears effortlessly thrown together yet sophisticated, with a nomadic, tribal feeling for Fall 2010.
The brand's trademark aesthetic of slightly disheveled yet sexy, is perfect for travel and translates easily from day to night.
Oversized silhouettes are prevalent, with gauzy shirts and textured fabrics such as crinkled or bubbled cottons. The collection has an organic feeling and as always, functionality and comfort are key elements. Highlights include vegetable-dyed leathers, long flowing dresses and detachable faux fur around the collars and hoods for added warmth.
The collection color palate is inspired by the desert and ranges from dark and monochromatic to earthy, clay tones mixed with muted, sun-bleached and faded pastel colors. Abstract prints are reminiscent of tribal paint and desert fossils. The color scheme and prints parallel that of the nomadic lifestyle of always being on the go and exposed to new adventures and realities.
Since launching their women's line in Fall of 2003, with men's following in 2006, Nicholas Kunz and her brother and business partner, Christopher Kunz, have continued to deliver a downtown city edge to their customer base. Known for their trademark traditional quality and design with modern twists, the brand strives to deliver unique products, which will remain timeless wardrobe staples.
In 2009, Nicholas & Christopher were inducted as members of the CFDA- an exciting and humbling moment for them, both personally and professionally.