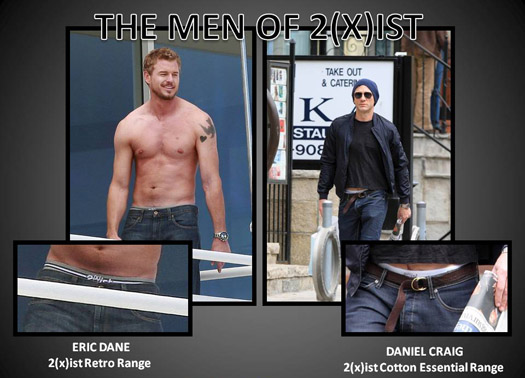 NEW YORK, Apr 30, 2010 / — Renewed men's underwear label 2(x)ist has always been the brand of choice amongst trend-savvy, fashion forward men and celebrities alike. Known for its innovative product design and provocative imagery, 2(x)ist proudly confirms that men who know style, wear 2(x)ist.
Most recently, silver screen hunks Eric Dane and Daniel Craig were spotted showing off their favorite 2(x)ist styles on two separate occasions.
Grey's Anatomy heartthrob Eric Dane "Dr. McSteamy" was caught with his shirt off and his jeans pulled down to reveal his 2(x)ist Retro collection no-show briefs while filming the movie Valentine's Day.
Shortly after, 007 star Daniel Craig was caught in a pair of low rise jeans, showing off his 2(x)ist Cotton Essential briefs while taking a break from filming his new movie "The Guardian" in Toronto.
"It's refreshing to see modern men embracing fashion and defining the fact that underwear is sexy for men!" says 2(x)ist's Creative Director Jason Scarlatti.
"We believe in the quality and design of our product and the boost of confidence men get when they step into a pair of 2(x)ist. Our sincere thanks goes out to both Eric and Daniel for helping to spread that message to men everywhere. We are huge fans of theirs and are ecstatic to know the feeling is mutual!"