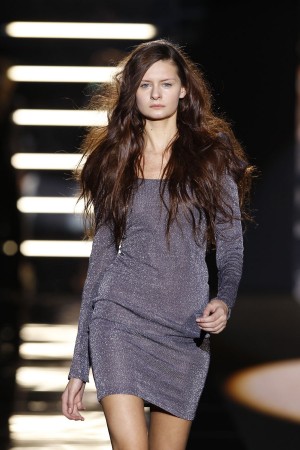 MADRID, Apr 15, 2010 / — In order to disconnect from our daily reality, we cultivate our subjectivity, turning around personal images dictated by our whims and fantasies. A personal universe where fabrics, textures and volumes help us to invent stories.
Shoulders play a pivotal role, enhanced with pleats, trims and shoulder pads. Meshes for tricot with little hair afford a smooth, light touch.
Highly-meticulous tricot garments: combinations of different threads, gauges and stitches in the same garment to attain rich textures.
Metallic trims on very diverse materials: for silk gauzes small metallic balls, chains and sequins on knitwear and zip-covered leather. Elasticized garments with clean cuts and architectural construction.
Colours stolen from men's old wardrobes: olive, curry and brandy combined with colours taken from a fairy story: jade, shell and green night.
Photos courtesy of Cibeles Madrid Fashion Week
Cibeles Madrid Fashion Week Fall 2010