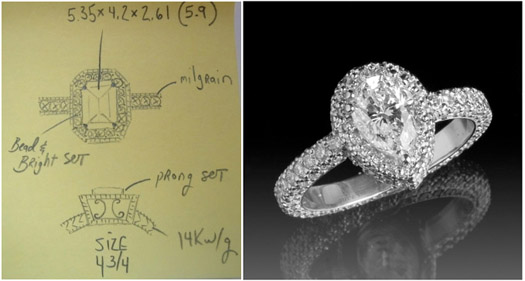 DALLAS, Apr 23, 2010 / — As wedding season approaches Eric Olschwanger is deep in diamonds and one-of-a-kind sketches. Bachelors on their last single days go to Eric to help them create a sparkling proposal.
Opposed to choosing from a showcase of inventory, Eric designs their ideal engagement and wedding rings from scratch. Starting with a piece of blank paper and a pencil Eric brings his client's vision to life.
Once the visual is on paper Eric takes the time to educate the bachelor on details such as emerald to marquise shapes, shallow verses deep cut, gold verses platinum alloys and flawless to VS2 clarity. With 20 years of custom design and as a GIA certified diamond gemologist Eric can ensure the highest quality characteristics are met regardless of the bachelor's budget.
Whether it be a one carat princess diamond or a pear shaped showstopper Eric makes each step of the design process personal. The bachelor observes the ring evolve from paper sketchings into a computer automated image and throughout the alloy and stone casting.
Then with a personally designed ring in hand the bachelor holds confidence that his proposal will be well received.
Although Eric's commissioned engagement and wedding bands are primarily traditional styles, he has received requests to incorporate specific requests into his engagement settings including the Eiffel Tower silhouette. Additionally Eric has redesigned clients' heirloom jewelry to put a fresh face on a sentimental piece.
Olschwanger Designs
5580 Lyndon B. Johnson Freeway
Dallas, TX 75240
Ph: 972.458.8352
Fx: 972.458.8356
Hours: Mon.-Fri. by appointment
www.olschwangerdesigns.com
New Providence Towers showroom address will be in effect as of May 1, to be announced.