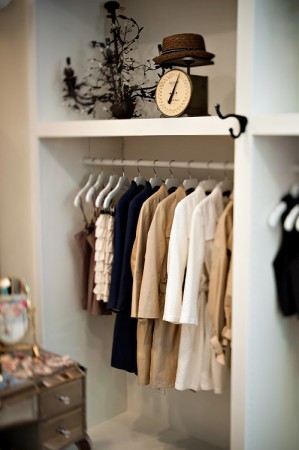 NEW YORK, May 27, 2010 / — Originally from Chicago, Annie Havlicek moved to New York in 2006 to study at the Parsons School of Design.
Finding constant inspiration from the nuances and lifestyle of the city, her namesake women's ready-to-wear line came to life and was officially launched last year for the Fall 2009 season.
Now the designer has found another outlet for her creativity and the perfect place to present her vision and designs, with the opening of her flagship Annie Havlicek boutique, located on Orchard Street in the heart of the booming Lower East Side.
Items carried in the store include the Annie Havlicek Spring/Summer 2010 collection (with prices ranging from $98 – $450), as well as an array of accessories including Brixton Hats, Osborn Shoes (cream/tan canvas and lace oxfords, which were a collaboration design with Annie), as well as jewelry by Digby & Iona and The Docent.
There are also miscellaneous items available in the store ranging from eclectic antiques handpicked by the designer, such as etched parfait glasses, assortment of hand-painted china and mirrors, along with soaps, perfumes and candles.
The store aesthetic consists of high-end, sleek details mixed with quirky antique elements, staying in sync with the unique charm of the neighborhood.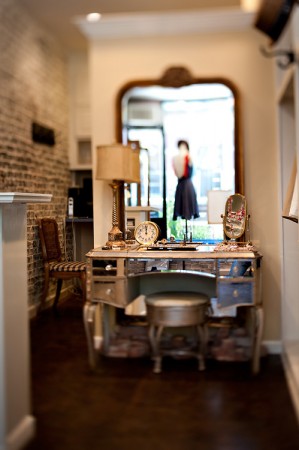 The creation of the store interior was a family operation and features hand built installations by Annie's dad (a custom luxury home builder), interior design details that Annie collaborated on with her mom (an accomplished interior designer) and additional help from Max Moore, the director of the store. The door for the fitting room is an actual door from Annie's childhood home.
For her Spring 2010 collection, Annie was inspired by Renoir's paintings, Bal du Moulin de la Galette and Le dejeuner des canotiers and by her first summer living in Williamsburg, Brooklyn.
Her collection represents the Sunday afternoons depicted in Renoir's paintings as well as her typical Sunday afternoons that consist of brunch, dancing and attending outdoor concerts on the waterfront.
The color palette and fabric direction was pulled directly from Renoir's paintings and reinterpreted into current silhouettes.
Styles include white striped silk dresses with delicately trimmed black ribbon, crisp black and navy silk linen separates inspired by menswear, clean soft white blouses, and rich navy accented with unexpected touches of bright red.
The boutique is located on the upper mezzanine level at 154 Orchard Street, between Stanton and Rivington. Store Hours: Every Day 12 pm- 8 pm