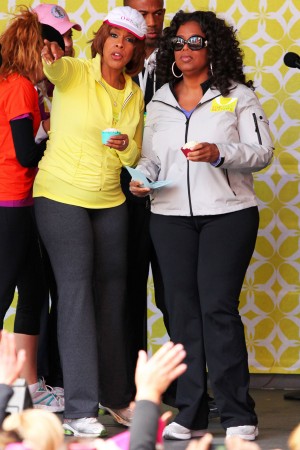 NEW YORK, May 11, 2010 / FW/ — Providing 20,000 especially designed cotton neck t-shirts to those who participated in "Live Your Best Life Walk," Calvin Klein Performance celebrated the 10th anniversary of Oprah Magazine by giving back to the community.
Open to all who wanted to take part and give back, the "Live Your Best Life Walk" attracted a bevy of like-minded individuals headed by Oprah Winfrey, Gayle King, Jennifer Hudson, Bette Midler, Mary J. Blige, Tracy Chapman, Elizabeth Banks, Lisa Edelstein, and Dr. Oz, among others.
Oprah Winfrey, Gayle King and Jennifer Hudson, who were all wardrobed by Calvin Klein Performance led the walk to raise money for 10 charities selected by the editors of O, The Oprah Magazine.
Following the race, the brand hosted two customized tents, where hundreds of people lined up to stretch, receive complimentary massages, and view a live model installation spotlighting key pieces from Calvin Klein Performance.
Walkers also had the opportunity to receive special discount cards, custom branded pedometers, and a chance to win an iPod Shuffle, while fitness expert and personal trainer, Brendan Comer, CSCS, was on hand to provide training tips and answer any questions.
Additionally, Calvin Klein Performance unveiled a billboard near the finish line of the "Live Your Best Life Walk" in Times Square at the Marriott Marquis Rotunda, on Broadway between West 45th & West 46th Streets.

A licensed division of The G-III Apparel Group, Ltd, Calvin Klein Performance is a designer line of athletic and performance wear which utilizes authentic performance materials and unique designs to enhance a woman's active lifestyle.
The items in the line are perfect for a range of sports and activities, including yoga, running, tennis, and biking. The offering includes active pants, capris, shorts, tank tops, t shirts and assorted jackets, in a range of colors and styles.
[MARI DAVIS]
Photos by Getty Images and Wire Image
Billboard/Ad Image by Nathaniel Goldberg