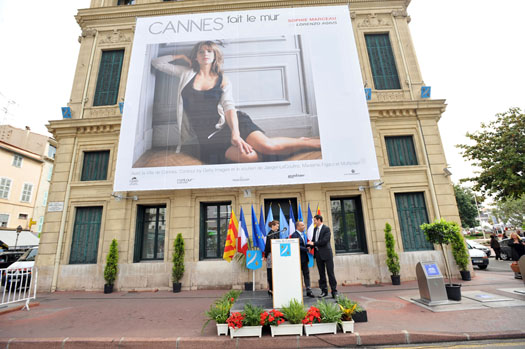 PARIS & CANNES, May 17, 2010 / FW/ — We have heard of billboards, but what about a photo exhibit wherein images are as big as billboards?
Partnering with photographer Lorenzo Agius, Jaeger-LeCoultre in association with Getty Images Contour agency is presenting this spectacular photographic exhibition entitled "Cannes fait le Mur".
This glamorous oversized installation can be viewed throughout the town of Cannes and features a selection of the finest creations by the extremely talented photographer Lorenzo Agius.
To celebrate the event, the Jaeger-LeCoultre Boutique in Cannes, located at 27, Rue d'Antibes, will be welcoming another Lorenzo Agius exhibition bringing together portraits of celebrities such as Diane Kruger (the Jaeger-LeCoultre use), Clive Owen, Robert Downey Jr, Sienna Miller, as well as a portfolio of works screened inside the store.
The Jaeger-LeCoultre Boutique in Cannes, which opened just a year ago, will thus have the opportunity to live entirely in step with the movie world during the Film Festival.
Jaeger-LeCoultre, a touch of glamour
Jaeger-LeCoultre regularly graces red carpets on the wrists of the most fascinating celebrities. At the 2010 Cannes Film Festival, personalities such as Gaspard Ulliel, Raphael Personnaz, Julie Gayet, Ariane Massnet, Elisabeth Quin and others will be wearing watch models from the famous watch manufacturer.
Diane Kruger, the Jaeger-LeCoultre muse, will be highlighting the famous 101 watch by Jaeger-LeCoultre, equipped with a movement that has celebrated its 80th birthday and still appears in the Guinness Book of Records as the world's smallest mechanical movement.
In September, the reference in fine watchmaking has set a new date with the movie world at the Venice Film Festival, the famous Mostra of which Jaeger-LeCoultre has been the official partner for the past six years.
For further information, consult the brand website: www.jaeger-lecoultre.com