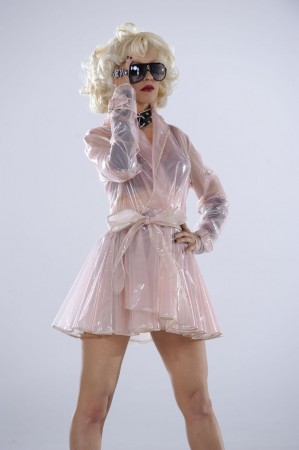 MILAN, May 1, 2010 / — As we already know, a music video is not just about the song, it is also about style and stage presence of the singer.
Christina Aguilera added to her "it" factor by donning a pair of sunglasses from the legendary CARRERA Vintage Collection in her recently released music video, "Not Myself Tonight".
In the music video, directed by Hype Williams and produced by RCA Records, Aguilera discovers herself in new form. Throughout the video, Aguilera transforms into multiple characters, all containing a touch of Aguilera's playful and strong demeanor that fans have adored.
The stylized video finds Aguilera setting her eye to the future, giving a glimpse into what is to come. The song "Not Myself Tonight" has an up-beat dance rhythm and is engaging: "Not Myself Tonight" is the lead single for the new album "Bionic" and is already a hit!
During her performance, Christina wears the CARRERA sunglass model "Endurance," one of the extremely colorful models from the CARRERA Vintage Collection.
Made with Optyl (a trademark which identifies a plastic used exclusively by Safilo Group), the "Endurance" is inspired by the unforgettable Eighties retro fashions and attracts attention with its highly recognizable aviator shape.
These fashion-forward CARRERA sunglasses help define Christina's latest chapter of her ever-evolving innovative style and cement her role as a hardcore fashion icon.
"Not Myself Tonight" is currently being broadcast on all major radio and online outlets.