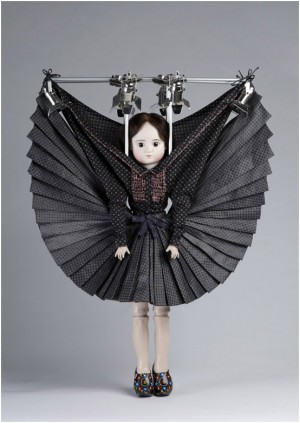 Dolls / Viktor & Rolf Exhibition
Studio Job Gallery Antwerp
Dates: 18 May – 16 July 2010
ANTWERP, May 15, 2010 / — The true strength of Viktor & Rolf's work is its genuine modesty. Although from time to time they make grand statements and their output can be astonishing in its proportions, the essence of their work is high-quality simplicity: look around you, take what you see and improve on it. No idealistic aims or wild fantasies – just add a golden finish to the lead of daily life.
All this is entirely in keeping with the Low Countries tradition that idiosyncrasy and uniqueness are only valued if they are kept at arm's length, and that a modest attitude is expected. Viktor & Rolf have succeeded precisely because they have not rejected these conventions, yet have developed a wonderful sincerity that tests the boundaries of this sham context and so exposes its falsehood. They have thus set a new standard for coming generations of artists and designers without ever repudiating their origins.
It should therefore come as no surprise that Viktor & Rolf have finally felt the need to put their entire oeuvre in perspective. The result is Dolls – a blend of unparalleled creative power and artistic magnificence, coupled with the sincerity and true modesty that typifies their work. Best of all, Dolls has found a home with Job and Nynke, who (as Studio Job) have so much in common with Viktor & Rolf – a highly successful personal relationship that goes back to the 1990s.
[ERIK SCHILP]
Director, Museum of National History of the Netherlands
Photo by P. Stigter
Exhibition
18 May – 16 July 2010 / 14:00 – 18:00
Tuesday – Friday and by appointment
Studio Job Gallery
Begijnenvest 8
2000 Antwerp, Belgium