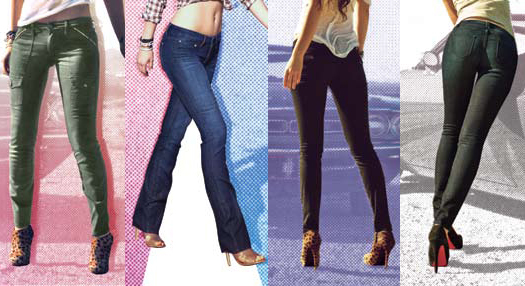 LOS ANGELES, May 14, 2010 / — In dressing rooms across America, a scene is repeating itself: a pair of sad, lonely premium jeans hangs crumpled over the doors of an empty changing room. Someone loved them for a moment. Someone tried them on and did three circles in the mirror just admiring how good their butt looked. Someone wanted them.
In today's economy, however, want does not equal need. And the decision was made to leave them behind. But true jean aficionados need not despair. The denim icon responsible for the brands and styles they have coveted for so many years – has created a new line with equity stitched into the seams.
It's called Easy Money – and it's unbelievable.
"For years I swore it couldn't be done," says Easy Money founder Michael Glasser, the man behind denim giants Seven, Citizens, Rich & Skinny and the new Cj by Cookie Johnson. "I never thought I could create a quality jean with the same first-class details and washes for a price under $100. But in my gut I knew it was time, the consumer was asking for it, so I researched hard and worked with my partner, designer Joie Rucker, to make it happen."
What they created was a jean that is indistinguishable from the industry leaders, at a price that will allow consumers to buy what they want, not just what they need.
"We approached it as a challenge," adds designer and co-owner Joie Rucker (whose expertise includes years presiding at Guess, Levi's, Joie and Rich & Skinny). "Anyone who has the right fabric can make a decent premium jean, but we worked hard within our parameters and rose up to meet our own standards. Ultimately, we made an honest, quality, great-fitting product accessible to more women. I feel extremely proud of that."
Hitting floors the last December 2009, Easy Money debuted at Nordstrom nationwide. "Nordstrom keeps their finger on the pulse of their customer's desires," adds Glasser. "We think it's an ideal home for Easy Money because their denim shoppers don't mess around. Nordstrom is excited to say to them, 'you no longer have to choose between price and quality.'"
That's it. No more denim dilemma. With Easy Money, it's OK to covet the latest trend, without the guilt. It's easy on the wallet, easy on the conscience, and of course, easy on the eyes.
Easy Money is available in five core pieces – boot cut, straight leg, skinny and legging jeans and a denim jacket. At a price point of $76-$116 the line is available in sizes 24-32. Look for Easy Money in the T.B.D. department at Nordstrom.