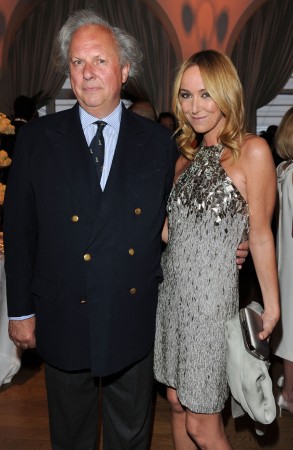 MILAN & CANNES, May 16, 2010 / — Gucci Creative Director Frida Giannini and Vanity Fair Editor Graydon Carter co-hosted the Vanity Fair/Gucci party last night in Cannes in honor of Martin Scorsese.
The Chairman of the Film Foundation, which, together with Gucci and other partners restored the film "Il Gattopardo", Martin Scorsese is best known for directing iconic films "Taxi Driver" and "The Color of Money" among many others which had become part of American pop culture and the whole world.
Born November 17, 1942, Martin Scorsese is also a screenwriter, producer, actor, and film historian.
He is the founder of the World Cinema Foundation and a recipient of the AFI Life Achievement Award for his contributions to the cinema, and has won awards from the Oscars, Golden Globe, BAFTA, and Directors Guild of America. Scorsese is president of The Film Foundation, a non-profit organization dedicated to film preservation.
An intimate dinner at the Hotel du Cap honoring Mr. Scorsese was followed by a party to celebrate the famed director and the 20 year anniversary of The Film Foundation.
The following guests wore Gucci:
Jennifer Lopez wore a Gucci one of a kind pale grey moraccain silk one shoulder cocktail dress with pleated organza and georgette ruffle detail on the shoulder and a grey satin clutch with jewel detail.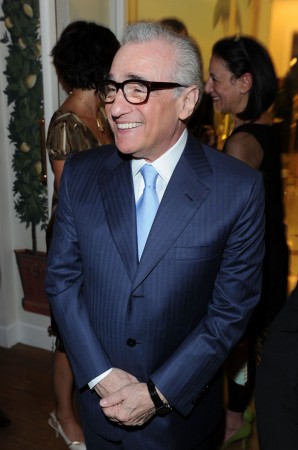 Marc Anthony wore a Gucci navy notch lapel tuxedo with black satin trim, white dress shirt, black satin tie and black lace up loafers.
Salma Hayek wore a Gucci one of a kind bronze cap sleeved cocktail dress with a deep v-neck and all over paillette embroidery and bronze satin peep toe high heels.
Naomi Watts wore a Gucci Fall Winter 2010/011 black sequined cocktail dress with back cut out detail.
Luca Argentero wore a Gucci navy Signoria peak lapel two button suit with black dress shirt, black silk tie and black leather horsebit loafers.
Camilla Belle wore a Gucci one of a kind off the shoulder cocktail dress encrusted with gunmetal Swarovsky stones, beads and sequins with grey suede peep toe high heels and grey patent clutch with silver and black hardware details.
Myriam Cantania wore a Gucci Fall Winter 2010/2011 one of a kind black cocktail dress with all over sequin embroidery and lace cut out detail with back suede t-strap sandal with patent leather trim.
Charlotte Casiraghi wore a Gucci one of a kind pearl grey strapless cocktail dress embellished with iridescent Swarovski crystals and beads and an embroidered grosgrain ribbon belt detail with grey suede peep toe high heels.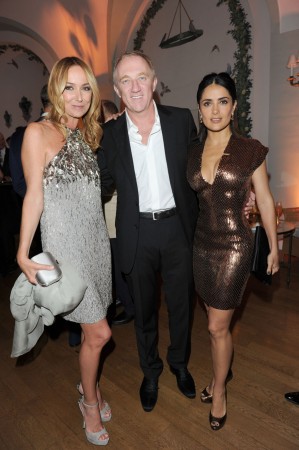 Jeon Do-Yeon wore a Gucci Cruise 2010 long black crepe jersey belted gown.
Frida Giannini wore a Gucci one of kind grey georgette halter-neck cocktail dress with cutaway shoulder neckline, metal beaded embroidery and mirrored geometric stone detail at the neckline, pale grey satin box clutch and grey satin peep toe high heels with ankle strap.
Diego Luna wore a Gucci brown notch lapel two button suit with black dress shirt and black lace-up loafers.
Elsa Pataky wore Gucci Fall Winter 2010/2011 one of a kind dark brown sleeveless cocktail dress with deep vneck with all over sequinned detail, taupe leather clutch with gold G73 detail and suede taupe t-strap sandals.
Olympia Scarry wore a Gucci one of a kind deep gold silk jersey gown with plunging back and metal bar detail.
Léa Seydoux wore a Gucci one of a kind strapless dark green pleated chiffon gown with horizontal drape detail on the bust and empire waistline.
Gabriella Wright wore a Gucci Fall Winter 20101/2011one of a kind bronze all over beaded gown with cut out detail.
The following guests also attended the event:
Pedro Almodóvar, Ellen Barkin, Giulio Base & Tiziana Rocca, Kate Beckinsale, Juliette Binoche, Lawrence Bender, Bianca Brandollini D'Adda, Tim Burton, Naomi Campbell, Claudia Cardinale, Charlotte Casiraghi, Joan Collins & Percy Gibson, Benicio del Toro, Catherine Deneuve, John Elkann & Lavinia Borromeo, Ginevra Elkann, Lapo Elkann, David Furnish, Gael Garcia Bernal, Jim Gianopulos, Cuba Gooding, Jr., George Hamilton, Tommy Hilfiger, Jennifer Hudson, Ryan Kavanaugh, Liya Kebede, Karolina Kurkova, Brigitte Lacombe, Diane Lane & Josh Brolin, Frank Langella, Giampaolo Letta, Christian Louboutin, Bryan Lourd, George Lucas, Diego Luna, Tamara Mellon, Margherita Missoni, Gabriele Muccino & Angelica Russo, Wendi Murdoc, James Nachtwey, Eugenie Niarchos, Simon Pegg, Jean Pigozzi, Francois-Henri Pinault, Hylda Queally, Aishwarya Rai, Brett Ratner, Carlo Rossella, Tom Rothman, Meg Ryan, Tatiana Santo Domingo, Eric Schmidt, Martin & Helen Scorsese, Oliver Stone, Julie Taymor, Naomi Watts, Harvey Weinstein, Pharrell Williams, Dasha Zhukova.
[nggallery id=288]
[nggallery id=289]