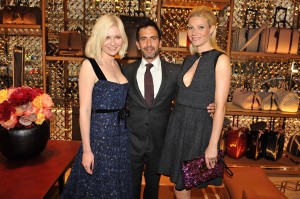 LONDON, May 30, 2010 / FW/ — In a star-studded affair, Louis Vuitton, the world's leading luxury brand, unveiled its first Maison in the United Kingdom, which Marc Jacobs, Creative Director of the brand described as, "one of the most magnificent stores in the world."
Encompassing 1,500 square meters, the Maison ranges over 1,500 square meters of retail space.New York-based architect Peter Marino was brought in to design the space and has worked on previous Louis Vuitton stores including the Champs-Elysées Maison.
[The store] "is spacious and light, so that you can enjoy yourself. It's not meant to be pressure selling atmosphere. It is designed to be relaxed and gorgeous," said Peter Marino.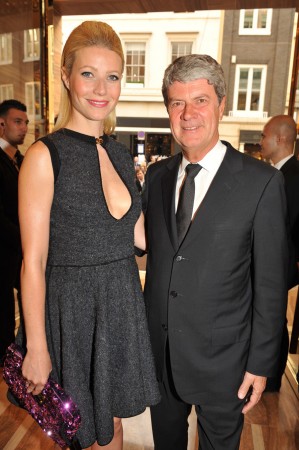 The opening was presided over by Yves Carcelle, Chairman and CEO of Louis Vuitton, Roberto Eggs, President of Louis Vuitton Northern Europe, and Susan Whiteley, Managing Director of Louis Vuitton UK and Scandinavia.
Present to celebrate the opening of the Louis Vuitton New Bond Street Maison were Bernard Arnault, Antoine Arnault, Gwyneth Paltrow, Kirsten Dunst, Thandie Newton, Dominic Cooper, Alexa Chung, Daisy Lowe, Natalia Vodianova, Elle Macpherson, Stella Tennant, Jasmine Guinness, Angelica Huston and Romola Garai.
For the evening, Louis Vuitton wardrobed Alexa Chung (skirt & top from the Fall 2010 collection and Speedy Bag), model Natalia Vodianova (dress from Spring 2009 collection), Gwyneth Paltrow (in a Cruise 2011 dress & Pre Fall 2010 clutch), Dominic Cooper (Spring 2010 collection), Thandie Newton (wore a dress from Spring 2009 collection and Ore Fall 2010 Tortoiseshell clutch), Kirsten Dunst (a dress from the Fall 2010 collection), Caroline Sieber (a dress from the Spring 2010 collection), Donna Summer (dress from the Cruise 2010 collection and Clemence Poesy from the Pre Fall 2010 collection).
Guests were invited into the New Bond Street Maison to admire the design of architect Peter Marino and the collection of inspiring artworks.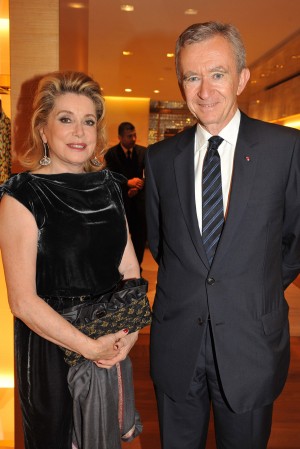 Chris Ofili showed his new limited edition artists book – Paradise by Night – 10 stunning new lithographs, commissioned by Louis Vuitton to illustrate the evocative poems which were performed in the store by Charlie Dark and a group of young performance poets.
Pablo Bronstein, a young artist currently showing at Tate Britain, created a new performance piece, entitled LUGGAGE BALLET. Nestled amongst the men's shoes in the basement of the Maison, were 10 exquisite vintage pieces from the Louis Vuitton Museum in Asniere.
Bronstein sat amongst the audience and narrated the history and provenance – real or imagined – of those pieces, whilst a beautiful young dancer from the Royal Ballet described the items through classical sprezzatura style ballet, to the accompaniment of Bach recitative played by a young harpsichordist. Finally, guests were treated to a surprising specially commissioned sculpture by Michael Landy.
Inspired by Jean Tingueley, the kinetic sculpture is made from hundreds of collected items and at the touch of a button, noisily gyrates, bells ringing and cutting implements opening and closing as the cogs and wheels turned.
Guests had the opportunity to acquire an original Michael Landy drawing, be it created by the automatic drawing machine which is an integral part of this extraordinary sculpture.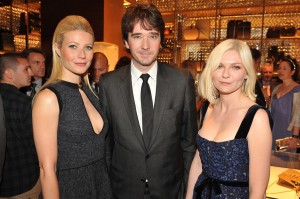 Guests were then invited on a journey to a secret location for an extravagant dinner. Throughout the evening performances were choreographed by theatre company Punchdrunk, culminating in a performance by Donna Summer.
From Mongolia to Venice, reality to fiction, the guests were deftly escorted through this other world to a restaurant, where Mark Hix cooked a staggeringly simple meal before Donna Summer took to the stage to reprise her 1970s disco hits.
Louis Vuitton
Churchill House
160 New Bond Street
London W1S 2UE
Tel: +44 (0)207 399 3856
Fax: +44 (0)207 399 4041
www.louisvuitton.com
Additional Coverage: