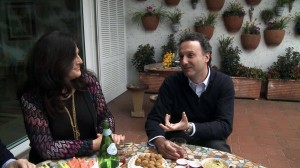 MILAN, May 19, 2010 / FW/ — With a history that dates back since 1395 that even Leonardo da Vinci himself had to sample and analyze the water in 1509, the San Pellegrino water has been famous for 600 years before it was finally bottled in 1899.
For the past 100 years, the S. Pellegrino bottle had remained virtually the same; but that is about to change.
In the new project, "ITALIAN TALENTS", the time-honored S.Pellegrino bottle will be entrusted to a designer to be re-interpreted and re-imagined bringing to life a new collectible and limited edition bottle that will be distributed in the finest restaurants in Italy and abroad for only three months.

Looking for its perfect partner in this endeavor, S.Pellegrino has discerned that MISSONI has the ideal partner to launch its first edition of the ITALIAN TALENTS project.
Missoni invented a unique Fashion style, joyful and nonconformist. It is an authentic and unmistakable brand, just like S.Pellegrino.
Fabio Degli Esposti, Sanpellegrino International BU Director, comments: "This was a natural choice right from the start, given the unquestionable values and originality that the Missoni brand has always expressed.
Angela Missoni affirms: "Clothing a bottle, exteriorizing the tones, reflections and nuances that the light creates on the water's surface is the task we have assigned to ourselves, to give shape to our interpretation of S.Pellegrino. An object capable of evoking and amplifying water's characteristics of freshness, transparency and radiance through our distinctive zigzag motif."
For S. Pellegrino, the partnership with MISSONI marks the beginning of a journey that foresees the involvement in every new edition of a leading component of Made in Italy.