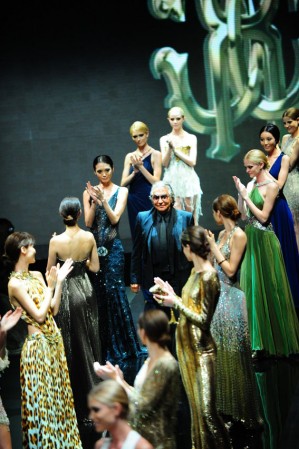 SINGAPORE, May 4, 2010 – Singapore witnessed true glamour and style as famed designer Roberto Cavalli celebrated 40 glamorous years with a red carpet collection bringing Audi Fashion Festival 2010 to a glittering finale on May 2nd.
Marking his debut appearance in Singapore, Mr. Cavalli, accompanied by Korean supermodel Song Kyunga in a stunning Cavalli gown, arrived at the Tent@Orchard to a strong crowd of fans and paparazzi greeting him in high anticipation and excitement.
Styled exclusively for the festival and presented for the first time in the world, the Roberto Cavalli show featured highlights from Fall/Winter 2010 and signature looks from the Roberto Cavalli archives.
Among the guests who attended the show in Cavalli gowns included Dr Georgia Lee, Kelly Sia, Marisa Wee, Jamie Cuaca and Denise Keller. Heightening the star power at the show that night were famous local celebrities and personalities: Joi Chua, Felicia Chin, Andrea De Cruz, Karen Ng, Kady Leyau, Pierre Png, Dr Iroshini Chua, Sharel Ho, Diana Widjaya, and Chang Yu Lan.
To further commemorate the 40 year anniversary, Roberto Cavalli was presented the Audi Fashion Festival Singapore 2010 Visionary Award by a long time friend – Colin McDowell, Creative Director of the festival.
The celebration continued at The St Regis Singapore, AFF Official Hotel as Mr. Cavalli invited top society's most stylish people to a private dinner. Guests were treated to an intimate candlelight dinner as they wined and dined with Mr. Cavalli.
The exclusive by-invitation only guest list included Sukamto and Kelly Sia, Lionel and Tina Tan-Leo, Douglas and Odile Benjamin, Marisa Wee, Jamie Cuaca, Denise Keller, Joi Chua, and Festival Director Tjin Lee.