PARIS, May 11, 2010 / FW/ — Alexandre Vauthier, Bouchra Jarrar, Calla Haynes, Francesco Scognamiglio, Hakaan Tildirim and Mark Fast were named as the six finalists for the highly coveted and very prestigious ANDAM Fashion Award.
With a purse of $220,000, the ANDAM fashion grant is one of the biggest in the world. Chaired by Pierre Bergé, directed by Nathalie Dufour and backed by the Ministry of Culture and the DEFI, ANDAM has been identifying and promoting the most promising talents in contemporary fashion, in the process contributing to the vitality and international prestige of the Paris fashion scene for over 20 years.
Francesco Scognamiglio
A graduate of the Naples College of Design, Francesco Scognamiglio (b. 1975, Italy) founded his label in
1998 and presented his first couture collection in July 2000. Shortly after, he won a place on the Milano Moda Donna Fashion Week calendar. In 2008 he signed a three season contract with Allegri in parallel with his own collections.
Alexandre Vauthier
After graduating from ESMOD in 1994, Alexandre Vauthier (b. 1971, France) joined Thierry Mugler and stayed with the label for four years. He then spent eight years as head designer of couture collections for Jean-Paul Gaultier. The first Alexandre Vauthier couture collection was unveiled in January 2009.
Bouchra Jarrar
After studying at the Ecole Duperré, Bouchra Jarrar (b. 1970, France) worked as studio director at Balenciaga and later Christian Lacroix. In January 2010 she presented her first collection as part of the haute couture calendar.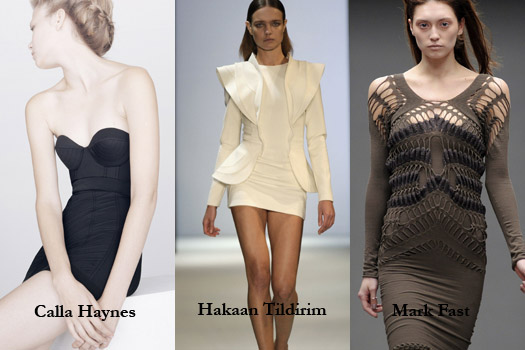 Hakaan Tildirim
After earning a diploma from Mimar Sinan Fine Arts University in Istanbul, in 1998 Hakaan Tildirim (1971) won first prize in the Young Fashion Designers Contest hosted by the Istanbul Textile and Apparel Exporters Association. He then worked with Turkish designers for several years before moving to London, where he presented his first collection during Fashion Week Fall/Winter 2010, with the support of photographer Mert Alas.
Mark Fast
A graduate of Central Saint Martins School and a three time winner of the Topshop Next Generation Award, Mark Fast (b. 1980, Canada) founded his own label and presented his first ready to wear collection during London Fashion Week in September 2009. Specializing in knitwear, he works with the biggest names in fashion, including Lanvin and Christian Louboutin.
Calla Haynes
After completing her studies at Parsons School of Design, Calla Haynes (b. 1980, Canada) came to France, where she worked as an assistant designer for Rochas and later for Nina Ricci. She has collaborated with many well-known designers, including Jeremy Laing, Alexander Wang and Thomas Engel Hart. In October 2009 she founded her own label and presented her first ready-to-wear collection in Paris.
This year the ANDAM FASHION AWARDS have attained a total endowment of €220,000 thanks to the loyal support of the association's partners: L'Oréal Professionnel, the Pierre Bergé Yves Saint-Laurent Foundation, LVMH, the Gucci Group, Longchamp, Galeries Lafayette, Saks Fifth Avenue (Middle East), Only The Brave (represented by Renzo Rosso) and Hudson's Bay Company.
Under the leadership of chairwoman Carine Roitfeld and director Nathalie Dufour, the 2010 judges panel unites Alber Elbaz, Hilary Alexander, Jean-Pierre Simon, Sarah Lerfel, Paul Benyamine, Jefferson Hack, Virginie Mouzat, Pamela Golbin, Gene Krell, Humberto Leon and Jean-Jacques Picart.
After studying all of the submissions, this panel of experts has selected the six finalists for the 2010 awards based on their creative accomplishments and potential for development.
The six nominees' projects will be presented during the National Commission sessions, to be held in late June. After due deliberation, the judges will select the winner(s) by simple majority vote.
The winner will be announced on June 28, 2010.