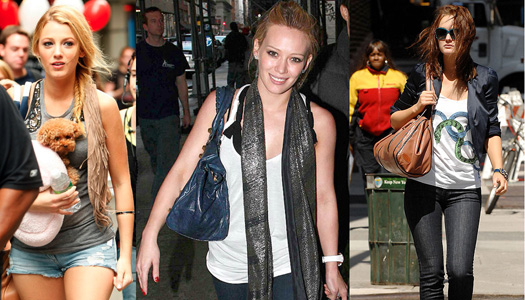 DALLAS, May 5, 2010 / FW/ — With Blake Lively, Hilary Duff and Leighton Meester as fans, it's a sure sign t hat Ronny Kobo, designer of "Torn by Ronny Kobo" has a firm grip on the industry and an intuitive eye for design.
Launched in 2008, "Torn by Ronny Kobo" immediately shot to fame with its wearable, yet inventive designs for the "Metropolitan Girl." T-shirts in a combination of prints offer novel conversation pieces while blazers in cool sweatshirt fabrics are expertly tailored like those from Savile Row.
"I'm fluent in T-shirts," says Kobo, who originally launched her label as a "designer t-shirts' line but has slowly been expanded into a full ready-to-wear line.
Every piece, every collection that she designed, Ronny Kobo evolves the label to include the season's hottest prints in her staple silhouettes – tees and soft printed dresses which are all offered at affordable prices. Her use of fine fabrics, attention to details and precise construction have all contributed to the success of the fledging label.
The collection is meant to be mixed and matched, evoking the customer's individuality. "The interpretation is completely how you wear it," says Kobo.
Dressing the ultimate urban girl can be challenging but the designer manages to strike the perfect balance between trendy and classic by updating elements of her designs for a fresh take on timeless styles. Designing ahead of the curve, Kobo is one to watch with progressive silhouettes, inventive intricacies, and original prints.
Born in Israel, raised in Hong Kong, and a resident of both London and New York, Kobo's design aesthetic is shaped by her affinity for international travel.
"My travels and experiences are the strongest inspiration for my line. Every bazaar and marketplace inspires me. They overflow with colors and cultures and interesting details that can only be found at that very place and moment in time."