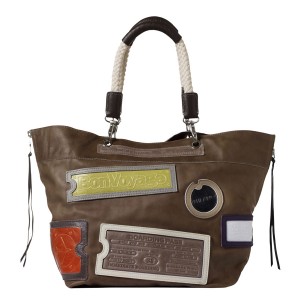 PARIS, Jun 6, 2010 / FW/ — A former student of Karl Lagerfeld and Jil Sander, then Director of Collection for Kenzo Jeans, Barbara Rihl launched her own label in 2000.
The world of humor and gaiety that Barbara Rihl created became an overnight fashion darling with Derwent Ranger, Colette and Le Bon Marché in Paris, Neiman Marcus, Bergdorf Goodman, Saks Fifth Avenue in the United States, Joyce in Hong Kong and Isetan in Japan carrying the label's debut collection.
Ten years later, Barbara Rihl continues to be strong as she invites everyone to travel and offer a luxury that allows each to dream season after season. Through her playful drawings and prints, it has become a strong identity that fits all women.
A bag by Barbara Rihl reflects the commitment to quality and detail of the brand by the designer. Carefully selected Italian leather oftentimes showing the raw side is very creative and sophisticated.
For Barbara Rihl, the search for new materials and new techniques remain the highest priority. Each collection is like a surprise to discover.
For Spring / Summer 2010, the Barbara Rihl accessories collection is enriched with fine silk scarves, stoles and wool cashmere sweaters and cashmere soft.
Barbara Rihl goes from strength to strength with her Fall 2010 collection, wherein once again, it is a world of dreams and journey, which to some extent is the story of the Barbara Rihl as a designer and also as a brand.
When the label was launched in 2010, there were three employees; two years later it had expanded to 15. Currently, the label is distributed in 1,000 outlets worldwide, including corners such as Galeries Lafayette, the Printemps, Le Bon Marché in Paris and the Ranger, or Isetan in Japan.
It launched an e-commerce site on Jun 2009 and opened showroom at 33 rue de Miromesnil in the 8th arrondissement Paris. And opened at the end of Jun 2010, Barbara Rihl will open its first boutique in Paris, in the heart of rue Saint Honoré.
www.barbararihl.com