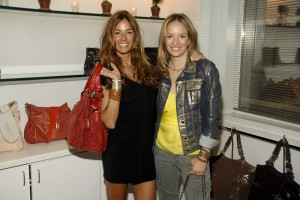 NEW YORK, Jun 15, 2010 / — Coralie Charriol began designing handbags as a college design assignment and though she had taken other responsibilities in their family-owned Charriol jewelry and watches business, Coralie had never left her first love.
Last Wednesday, Jun 9th, Coralie Charriol hosted a luncheon to preview her new luxury handbag collection, c.lili.
The luncheon, held in the penthouse of the Hudson Hotel, featured the new collection which officially launches for Fall 2010. Guests included Kelly Bensimon, Doutzen Kroes, Taylor Tomasi Hill, Amanda Ross, Jennifer Creel, and Sabine Heller.
A modern collection of handbags, c.lili offers styles that compliment the lifestyle of the bold contemporary woman. The debut collection introduces four distinct styles of bags: the Aurelia, the Marielle, the Lorena, and the Anais.
Each c.lili bag is constructed of a different leather treatment with special detail applied to the lining and inner details, and feature a double wrap bracelet that can be worn together or shared with friends.
The c.lili collection will retail exclusively through QVC and through the designer's own website.