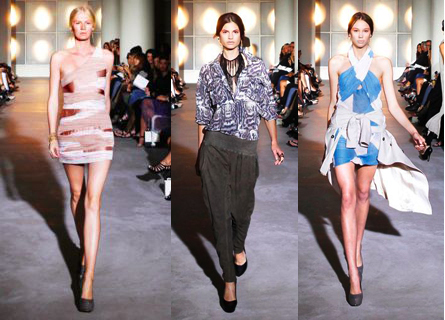 NEW YORK, Jun 8, 2010 / FW/ — As already been said before here, you have to go local to become global… the current trend of multi-ethnicity places emphasis on this growing movement among social groups to retain their uniqueness while taking part in the global aspect of our society.
Camilla and Marc, for their Pre Collection 2010/11 embark on this global journey, finding the inimitable and coming back with a multiethnic collection. And from this multi-ethnicity awakens a flourishing lover affair with color, sitting beautifully within the softer shades that run through this collection.
Multi-coloured tweeds and bright silks inject a fresh new dimension to the beautiful silhouettes and signature tailoring that has become a thoroughly recognizable Camilla and Marc staple.
Striking new prints continue this journey with captivating aerial views of a desert sand storm as well as a bold tortoise shell print in earthy brown and khaki. These graphics work to strikingly exotic effect when used across the board from lightweight draped dresses to bags, with particular mention reserved for an arresting pair of tortoise shell jeans.
A look to draping with leather this season has added a softness to traditionally structured separates. Further leather highlights, such as a heavily detailed slate grey jacket with gold hardware, have been translated beautifully into the opulent accessories collection.
Elegant totes and shoulder bags are offered up with the addition of quilting and heavy gold detail on luxurious leathers in shades of stone, deep khaki and black. Further styles echo the rich textures of the clothing, with tweed and tortoise shell oversized clutches, all rounded off with gold hardware.
This gold focus has been carried through to the first ever camilla and marc jewellery collection; a riot of thick rings, layered necklaces, nose rings and elaborate multi-chain earrings, all worn piled high and unashamed.