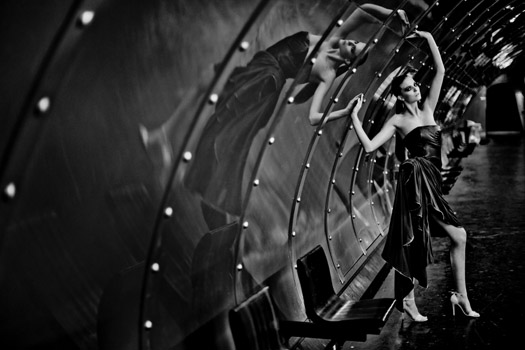 PARIS, Jun 30, 2010 / FW/ — Signing his third eponymous collection, French designer Julien Fournié will present "First Winter," where he ventures in the aesthetics of pain and interrogates the ambiguous beauty of a tortured, blown up or scraped body.
To be unveiled on July 6th at the BETC Euro RSCG in Paris' 10th arrondisement, Julien Fournié's "First Winter" turns philosophical as the designer interprets martyrdom through fashion.
The ultimate proof of the superiority of the spirit over the flesh, martyrdom generates either respect or fright or both.
Far from any recuperation by religious fanatics of any kind, the ontological dimension of this phenomenon may leave room for poetry.
Reinterpreting the characteristics of bombers jackets in dresses and sheaths (zippers, pockets over the arm and the emblematic tones of the piece) Julien Fournié blends street culture with the utter femininity of nude organza.
Precious, raw and innovative materials are mixed together, anatomic architectures melt with the traditional know how of couture.
Fox and mink fur inlays mingle with a sheath in silk jersey, a long coat in rough wool is built with an origami collar, raw muscles are drawn with a ball point pen on flesh coloured leather pants, a scene of slaughter is handpainted in inked shadows highlighted by blood red crystal embroideries.
Instinctive volumes suggested by the fabric clash, epidermic trompte l'oeil appears, prosthetic elements stick out. They all accentuate the metaphysical dimension of vulnerability.
JULIEN FOURNIÉ Haute Couture Fall 2010
Tuesday, Jul 6, 2010 at 6:00 PM
BETC EURO RSCG – Passage du Désir
85/87, rue du Faubourg Saint-Martin
PARIS 75010
Paris Haute Couture Fall 2010