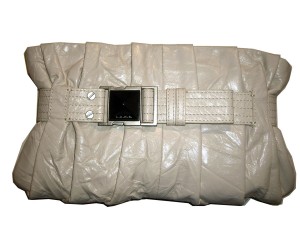 NEW YORK, Jun 3, 2010 / — Hosted by shopping event firm Savvy & Co., the L.A.M.B. and Harajuku Lovers Handbags sample sale is on for four days – Tuesday, Jun 8th to Friday Jun 11th at the 307 West 38th Street in the Storefront.
With merchandise up to 70% off, these two lines by Gwen Stefani are literally a steal at these prices.
L.A.M.B. is about individuality and sophistication with a touch of rock glamour and a Los Angeles-meets-Paris sensibility….
Inspired to create a range of handbags that she wanted for her own wardrobe, Stefani set out to design her "dream closet" of accessories, a "greatest hits" of handbags that combine a European luxury goods vibe with Stefani's iconic and eclectic sense of style.
The result is a collection that constantly surprises, while at the same time references the spirit of the Paris runway, but always with a L.A.M.B. "twist.
Examples of L.A.M.B. handbags on sale are:
L.A.M.B. Worthington satchel from the Signature collection, coated canvas in dayglo sunrise with black vachetta trim and zipper detailing. Retail $275, Savvy Price $80
L.A.M.B. Williamsfield tote from the Signature collection, coated canvas in acid houndstooth. Available in assorted prints from Fall and Holiday 2009 and Spring 2010. Retail $295, Savvy Price $90
L.A.M.B. Morgan clutch from the Campbell collection, crinkled Italian cow leather with custom pyramid stud buckle, in vanilla and brown. Retail $195, Savvy Price $60
Irreverent luxury, Harajuku Lovers is fun, colorful, East-meets-West nylon and canvas tote bags, carry-alls, backpacks and shoulder bags. Bags and gear for a young, fun-loving generation.
Inspired by the electric street scene of the Harajuku shopping district in Tokyo, the Harajuku Lovers collection captures the lyrics and iconography from Gwen Stefani's albums and appeals to people who appreciate her musical inspiration and "fatal attraction to cuteness."
Example of Harajuku Lovers bags on sale are:
Harajuku Lovers "Frosting" hobo in super-cute Super Hot Heroes print, made of durable/washable nylon. Retail $58, Savvy Price $20
Harajuku Lovers "Bishoujo" tote, in durable/washable nylon – the perfect small tote for beach book and sun block. Retail $52, Savvy Price $18
L.A.M.B. and Harakuju Lovers Handbag Sample Sale
307 West 38th Street, Storefront
(Between 8th & 9th Avenues)
Tuesday, June 8th 8:00 am to 8:00 pm
Wednesday, June 9th 10:00 am to 8:00 pm
Thursday, June 10th 10:00 am to 8:00 pm
Friday, June 11th 10:00 am to 6:00 pm