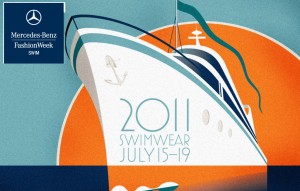 MIAMI BEACH, Jun 29, 2010 / — Mercedes-Benz Fashion Week Swim kicks off on July 15th to present the 2011 swimwear collections at The Raleigh in Miami Beach with 13 new names on the roster.
Designers showcasing collections for the first time at Mercedes-Benz Fashion Week Swim include;
A.Z Araujo- A.Z is known for swimwear designs that combine the sexiness of Brazil and the edginess of the New York consumer.
Aquarella Swimwear- Javier Madriga launched his Costa Rican based line in 2000 and uses bold patterns and designs to evoke femininity and sensuality.
Beach Bunny Swimwear- Founded in 2004, this former swimsuit model is a self-taught designer and is popular amongst celebrities like Jessica Simpson and Eva Longoria Parker.
Dolores Cortés – Continuing her family's business that started over 50 years ago, Dolores Cortés debuted her swimwear collection in 2002.
Kooey Swimwear Australia- Based in Australia, the Kooey design team offers both men's and women's swimwear that are instantly recognizable as Australian.
Lisa Blue- Based out of Byron Bay, eco-conscious Aussie Lisa Burke donates 25% the proceeds for Lisa Blue Collections towards protecting the sea life in Australia.
Lisa Maree-Excited for her first showing in the United States, model turned fashion designer, Lisa Maree Boersma's collections are inspired by her surroundings in Bondi Beach.
Naila- Desinger Naila Chbib's luxury lifestyle label is based around sustainable, recyclable and eco-friendly fabrics.
Nicolita- Established in 2003, designer Nicole Di Rocca is inspired by Cuba's nostalgic 1940's era with a modern-day twist.
Olasul- Designer Lorenz Korder Fort's collection is sometimes called "surfwear with a story" with designs inspired from his home in Peru.
Swimwear Anywhere- North America's leading privately held swimwear manufacturer, Swimwear Anywhere Inc., provides fashion-driven swim apparel representing 14 apparel labels including DKNY Swim, Juicy Couture Beach, amongst others.
Mercedes-Benz Presents Designer Trina Turk- Turk who launched her ready-to-wear line in 1995 and was almost immediately picked up in Barney's New York, Fred Segal and Saks Fifth Avenue. Her swimwear line was introduced in 2007.
Tyler Rose- Based in Costa Mesa designer Nichole Carrol's line is inspired by the 60's but revitalized for the modern bohemian woman.
Designers also showing at Mercedes-Benz Fashion Week Swim include Aqua di Lara/Qiss Qiss, Caffé Swimwear, Cia.Marítima, Crystal Jin, Ed Hardy Swimwear, Luli Fama, Mara Hoffman Swim, Marysia Swim, Poko Pano, Red Carter, Swell Suits Miami featuring Parke & Ronen, True Religion Swimwear and White Sands Australia.
Starting six years ago, Mercedes-Benz Fashion Week Swim has become the exclusive destination to showcase the best of the best in swimwear from around the world.
"We are excited to add so many new names to our already impressive list of designers," said Christina Neault, Executive Producer of the event. "The designers this year represent the quality and ingenuity that people have come to expect from these shows. Each brings different international perspectives and inspirations, from Australia to Brazil."