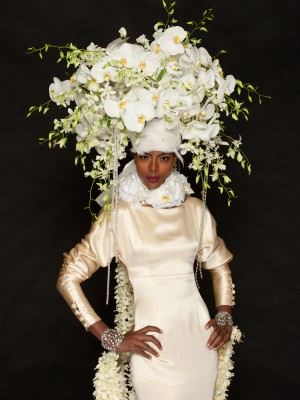 B Michael at Tulips & Pansies
NEW YORK, Jun 4, 2010 / FW/ — Now on its 9th year, the Tulips & Pansies: the Headdress Affair was once again a huge success. Fashion designers collaborate with florists to create fancy headdresses that are presented on a runway show during a charity dinner gala benefiting Village Care New York (VCNY).
This year, designer B Michael partnered with florist Michael Gaffney for supermodel Maya Haile "Gate", (wife of Celebrity Chef Marcus Samuelsson) for her appearance on the catwalk.
The show, which is a fundraiser for VCNY, a not-for-profit organization serving persons living with HIV/AIDS, seniors and individuals in need of continuing care and rehabilitation services.
***
H&M to Open First Store in Turkey
NEW YORK, Jun 4, 2010 / — H & M Hennes & Mauritz AB has signed a contract to open its first store in Turkey. The store is in the best location in Forum Istanbul, one of the largest shopping centers in Turkey.
The new store will have a sales area of approximately 2,300 square meters and the opening is planned for November 2010.
"We are very pleased to open our first store in Turkey. It is an interesting market with a large, young and fashion-conscious population, which offers great potential for future expansion. Since long, we have business relations with Turkey through our production office. Now we are looking forward to offering customers in Turkey fashion and quality at the best price," says Karl-Johan Persson, CEO of H&M.