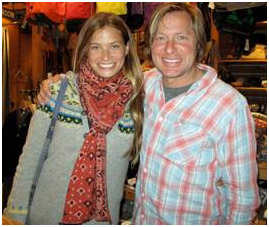 LOS ANGELES, Jun 14, 2010 / — Being environmentally conscious has become a way of life to many and the new denim brand "Pray for Mother Nature" is more than just eco-friendly. It was actually inspired by how the Japanese preserve nature and the environment.
"Pray for Mother Nature" is the brain child of Chip Foster, the other half of the wacky Chip and Pepper denim duo, and his with wife, Nicole Foster, who, during a recent trip to Japan were amazed how much the Japanese respect the environment.
And thus, the idea of having an eco-friendly jeans line made of the softest, lightweight denim was born and the naming the label "Pray for Mother Nature" was a natural step to take.
Launching a small collection for a fall/holiday 2010 delivery, Pray for Mother Nature features nine different silhouettes created from the best Japanese and Italian denim.
From body conscious styles like "Slick Rick," "Who's the Boss" and "Action Jackson," extra slim legging jeans in 6 oz denim, to a bell jean, skinny and bootcut styles. Daring new silhouettes in the collection consist of "Nomi Malones," a slouch harem pant and "It Doesn't Suck," a slouchy trouser style both offered in chambray, which is the it fabric for the season.
Colors range from indigo, lighter blue vintage washes, charcoal to olive. Price points are from $162 to $198. Pray for Mother Nature will be sold in better specialty boutiques and will be available for the Fall / Holiday 2010 season.
Fred Segal, Planet Blue, Shopplanetblue.com and Mendocino in Canada are introducing an early delivery of the collection this month.
The Fosters plan to give a percentage of proceeds to variety of beach environmental organizations. "Our 4-year old son, Lake has always been fascinated by the ocean and truly enjoys the beach," said Nicole Foster.
"We feel strongly about preserving our oceans and beaches and since the name Pray for Mother Nature is about being kind to our environment, it was a natural to support these organizations."