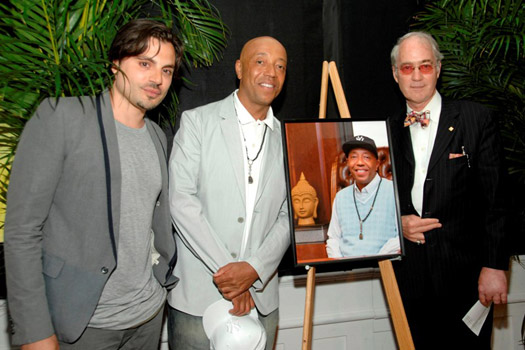 NEW YORK, Jun 9, 2010 / FW/ — Last Jun 2nd, in an intimate dinner at the Gramercy Park Mansion, the National Arts Club (NAC) and Yellow fever presented hip-hop icon and philanthropist Russell Simmons with the NAC's Gold Medal of Honor for Lifetime Achievement in Music.
Jamison Ernest of Yellow Fever presented the award alongside NAC President Aldon James. Remarks were given by Andre Harrell & Danny Simmons in support of Simmons' achievements.
The National Arts Club has remained a firm believer in recognizing art, in all its forms, and its decision to celebrate hip-hop by honoring Russell Simmons, one of the founding fathers of hip-hop, marks a historic night in NAC history.
A New York native, Simmons is one of the co-founders of Def Jam records, which is responsible for launching the careers of countless hip-hop icons such as The Beastie Boys, LL Cool J, Jay-Z and many more.
Recently named one of "Hollywood's Most Influential Celebrities" by Forbes Magazine and one of the "Top 25 Most Influential people of the Past 25 Years" by USA Today, Russell Simmons is a hip-hop pioneer, known for his groundbreaking vision influencing music, fashion, finance, television, film and philanthropy.
His music career began in the late 1970s, producing and managing revolutionary hip-hop artists including Kurtis Blow, Run DMC, Whodini and the Beastie Boys.
Later, Simmons was responsible for identifying and signing luminaries like Jay-Z, Foxy Brown and Ludacris. In 1984, Simmons and award-winning producer Rick Rubin created Def Jam Recordings, which was largely responsible for bringing hip-hop mainstream.
"In its 112th year, the National Arts Club is proud to recognize Russell Simmons, who is so intrinsically connected to an ever-expanding unique American art form: hip-hop," says Aldon James, President of The National Arts Club. "Because of his influence, Simmons has put forth something on the table which has given access to music and poetry to a much larger audience."
"To me, Russell Simmons is someone who beat all the odds and had every reason to blame the environment he grew up in as a reason not to succeed," says Jamison Ernest, creator of Yellow Fever and NAC member, who nominated Simmons for the award. "After he got it all, he gave it all away voluntarily. That's inspiration."
Notable Guests included: Lyor Cohen, Selita Ebanks, Tyson Ritter and Nick Wheeler of The All American Rejects, Gela Babluani, Director of the feature film 13 Tzameti, Dr. Ruth Westheimer, and fashion designer Yigal Azrouel
Photos courtesy of The National Arts Club/Ben Gabbe Photography
| | |
| --- | --- |
|   | Selita Ebanks |