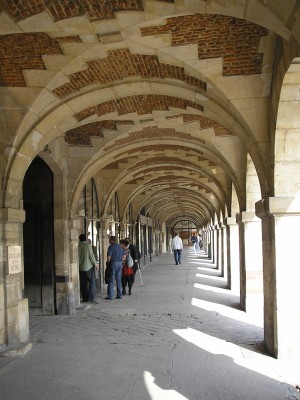 PARIS, Jun 1, 2010 / FW/ — It's officially summer! For Americans, Memorial Day might be the official start of summer, but for fashionistas, the release of the menswear catwalk schedules in May for both Milan and Paris means that summer is finally here.
And the boys are back in town with the Paris Menswear season being opened by Viktor & Rolf, who historically just hold a presentation but decided to take their collection on the catwalk for Spring 2011.
Thursday, June 24th is a full day with Viktor & Rolf, Alexis Mabille, Issey Miyake, Rick Owens, Juun J., Louis Vuitton, Gaspard Yurkievich, Jean Paul Gaultier, Smalto, Dries Van Noten, Yohji Yamamoto and Henrik Vibskov all gracing the calendar.
Day 2 is as hectic as the first with Friday, Jun 25th hosting Junya Watanabe, Gustavo Lins, Julius, Yves Saint Laurent, Walter Van Beirendonck, Kris Vann Assche, Comme Des Garcons, Cerruti, Givenchy, Romain Kremer and John Galliano.
Saturday might be the weekend, but there is no rest for the weary fashionistas who has to wake up early to see Boris Bidjan Saberi, Kenzo, Miharaysuhiro, Petar Petrov, Tillman Lauterbach, Dior Homme, Tim Hamilton, Ann Demeulemeester, Damir Doma, Hermes and Raf Simons.
The final day, Sunday Jun 27th brings two surprises, Thom Browne and Vivienne Westwood will be gracing the Paris menswear catwalk together with Bill Tornade, Lanvin, Wooyoungmi, Songzio, Agnes B., Rynshu, Paul Smith and Qasimi Homme.
This schedule is tentative and still subject to change. Here's the schedule as released by the Chambre Syndicale.
THURSDAY, June 24, 2010
0930 VIKTOR & ROLF See invitation
1030 ALEXIS MABILLE To be confirmed
1130 ISSEY MIYAKE To be confirmed
1230 RICK OWENS POPB – 8 boulevard de Bercy – Paris 12e
1330 JUUN J. Espace Commines
1430 LOUIS VUITTON See invitation
1600 GASPARD YURKIEVICH To be confirmed
1700 JEAN PAUL GAULTIER 325 rue Saint-Martin – Paris 3e
1800 SMALTO BMCS – 149 rue Saint-Honoré – Paris 1er
1900 DRIES VAN NOTEN 32 quai d'Austerlitz – Paris 13e
2000 YOHJI YAMAMOTO 155 rue Saint-Martin – Paris 3e
2100 HENRIK VIBSKOV To be confirmed
FRIDAY, June 25, 2010
1000 JUNYA WATANABE MAN See invitation
1100 GUSTAVO LINS To be confirmed
1200 JULIUS Espace Commines
1300 YVES SAINT LAURENT See invitation
1400 WALTER VAN BEIRENDONCK Bataclan
1500 KRIS VAN ASSCHE Halle Freyssinet
1600 COMME DES GARCONS HOMME PLUS See invitation
1700 CERRUTI Galerie de Minéralogie et de Géologie 36 rue Geoffroy Saint-Hilaire – Paris 5e
1800 GIVENCHY See invitation
1900 ROMAIN KREMER Bataclan
2030 JOHN GALLIANO 7 place Vendôme – Paris 1er
SATURDAY, June 26, 2010
1000 BORIS BIDJAN SABERI To be confirmed
1100 KENZO Lycée Carnot – 145 boulevard Malesherbes – Paris 17e
1200 MIHARAYASUHIRO Le Carrousel du Louvre – salle Soufflot
1300 PETAR PETROV Espace Commines – 17 rue Commines – Paris 3e
1400 TILLMANN LAUTERBACH To be confirmed
1500 DIOR HOMME See invitation
1630 TIM HAMILTON To be confirmed
1730 ANN DEMEULEMEESTER Couvent des Cordeliers – 15 rue de l'Ecole de Médecine – Paris 6e
1830 DAMIR DOMA Lycée Henri IV
2000 HERMÈS To be confirmed
2100 RAF SIMONS To be confirmed
SUNDAY, June 27, 2010
1000 BILL TORNADE 134 rue du Temple – Paris 3e
1100 LANVIN See invitation
1200 WOOYOUNGMI Docks en Seine – 34 quai d'Austerlitz – Paris 13e
1300 SONGZIO Lycée Turgot – rue de Turbigo – Paris 3e
1400 AGNÈS B. To be confirmed
1500 RYNSHU To be confirmed
1600 PAUL SMITH Couvent des Cordeliers – 15 rue de l'Ecole de Médecine – Paris 6e
1700 DUNHILL Hôtel d'Evreux
1800 THOM BROWNE To be confirmed
1900 QASIMI HOMME Espace Commines
2000 VIVIENNE WESTWOOD See invitation