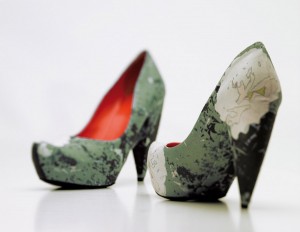 MILAN, Jun 10, 2010 / FW/ — One of the 15 winners of the What's More Alive Than You (WMATY) creative call last July 2009, British-born designer Victoria Geaney entered a floral shoe collection for her artwork.
A small collection of floral shoes made of 100% natural material, the shoes' upper is made of organic cotton printed with water colors in different textures, one for each United Kingdom Queen.
The peculiarities of this artwork are just the textures, drawn from a photographic base; these dress completely the models with the exception of the sole.
The design is so visible from every angle, and wears both the plant and the heel of the shoe, as if you were wearing a flower vase. The installation of the product is made completely by hand to make sure that every part of the design matches as possible.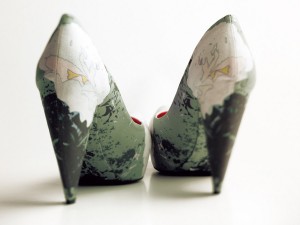 The form (shape) of the shoe is ergonomic, patent owned Wmaty s.r.l. and ensures a strong comfort for these models with 105 mm heel.
The ergonomic shape of the shoe in fact allows you to distribute more evenly the weight of the body both when walking and standing position; the materials used for the insole and the lining were designed and realized to provide stability of the foot without pressure.
Two models in 4 textures. A decolleté with curved heel which design is taken in front with a point upwards and a boot from the same rounded shape made of just two pieces shaped on tip.
When Victoria Geaney answered WMATY's creative call, she was on her final year as a Fashion Innovation student at the University for the Creative Arts, Epsom.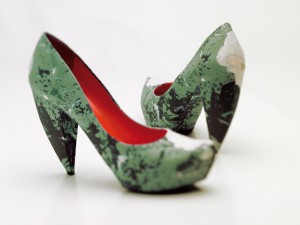 Commenting on WMATY, Victoria said, "I am really looking forward to being a part of such a groundbreaking international Fashion and Art initiative, as this is part of my own philosophy as a designer and artist."
"My floral shoes collection for WHAT'S MORE ALIVE THAN YOU® has been inspired by natural forms within the local environment and the use of environmentally friendly materials and fabrics; as well as through my work placements for British-based designers Julien Macdonald and Erdem. I aim to work for a pioneering fashion house with the long-term objective of pushing forward the boundaries of conceptual and contemporary design."
Victoria proves her true passion for nature in her choice of textures, colours, and materials. Her idea takes a cue from the surrounding world and translates into a tiny collection of elegant, 100% environment-friendly shoes.