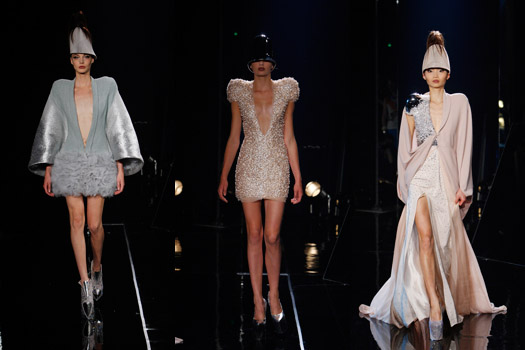 PARIS, Jul 8, 2010 / FW/ — Entitled "Reflection", the Jantaminau Fall 2010 haute couture collection is "about the concept of mirroring and reflection, 'old' couture reflected in contemporary couture."
Centering on that magical moment where one discovers themselves looking at their reflection in a mirror and becoming conscious of being, Jantaminau also presents the elusiveness of reality.
Jantaminau's choice of colors is neutral – different shades of nude, liver and pale grey.
The materials used are crêpes, chiffon, sequins, hand woven degrade fabrics, Swarovski crystals, and metal knit work. (Transparent) crystals play an important role in the clothes. They are used frequently under a layer of sheer fabric such as chiffon. That way, the sparkle lights up the material in a subtle way, adding to the mystical effect.
The cuts are generally slim, stretched, v-shaped silhouettes, the centre of gravity being the top part, portraying an ultra feminine image.
Photos by Peter Stigter / courtesy of Jantaminiau Couture