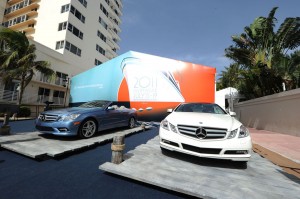 MIAMI BEACH, Jul 17, 2010 / — Thursday, July 15th, the sixth season of swimwear shows opened at The Raleigh, with the famed hotel once again became the epicenter of the fashion industry from July 15-19, 2010 as supermodels, celebrities, press and buyers came together to celebrate fashion and beauty with the sexiest swimwear designs in the world.
The week kicks off with a runway show by Trina Turk and opening party on the 15th, followed by four consecutive days of shows featuring collections from White Sands Australia, Beach Bunny Swimwear, Dolores Cortes, Swell Suits Miami featuring Naila and Park & Ronen, Ed Hardy Swimwear, Crystal Jin, Swimwear Anywhere, Mara Hoffman Swim, Poko Pano, True Religion Swimwear, Aqua di Lara, Red Carter, Cia.Marítima, Luli Fama, Caffé Swimwear, Nicolita, Marysia Swim, Lisa Maree, Aquarella Swimwear, Lisa Blue, Kooey Swimwear Australia and Tyler Rose.
Mercedes-Benz Fashion Week Swim is presented annually at Miami Beach's historic hotel, The Raleigh. Over the course of five days, 12,000 journalists, buyers and VIPs are in South Florida to experience the most elite swimwear event in the country.
Mercedes-Benz Fashion Week Swim 2011