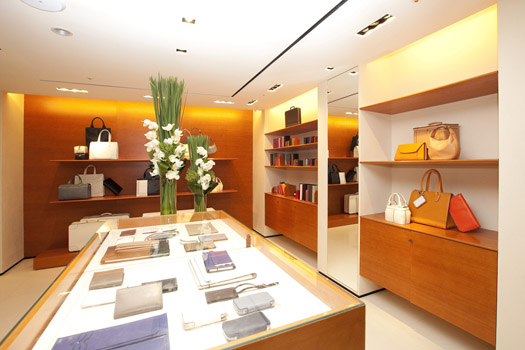 MILAN & SEOUL, Jul 2, 2010 / — Luxury accessories label Valextra opened its second flagship store yesterday in Korea with Emanuele Carminati Molina, Valextra Chairman and CEO in attendance.
Located in "Lotte Avenuel" luxury department store in Seoul, the new Valextra store-within-a-store location reiterates the linear and clean concept of the Valextra Milan and Rome outposts.
Measuring 95 square meters, the new Valextra boutique features white walls and fine woods creating the perfect atmosphere for customers to experience and absorb the philosophy of Valextra. Known for its expression of purity and upholding the highest level of Italian craftsmanship, Valextra offers pieces crafter to the finest detail and while adopting an individualistic expression.
Celebrating Valextra's craftsmanship, one of the company's master craftsmen demonstrated the crafting of a briefcase for short term travel to celebrity guests that included Jeong-Eun Kim, Yoon-Ah Kim, Ji-Yoon Park, Doo-Nah Bae, Yeo-Jung Jo and Seok-Jin Ha.
That same briefcase design presented won Compasso d'Oro prize, one of the most prestigious prizes in the design field.
In addition, BAHK Ghi Seon a well renowned artist of charcoal, displayed his collaboration artworks, which represent the symbol of Valextra; over 70 years of leather crafted pieces for jet-set individuals who take pleasure in comfort travelling. His artworks, themed "travel", will be exhibited at the Avenuel entrance lobby during the month of July.
Established in Milan in 1937 by Giovanni Fontana, Valextra since its inception has evolved to become well-appreciated for specializing in products with distinctive forms, designed for the comfort of sophisticated and cosmopolitan individuals.
Throughout its history, Valextra catered to important and demanding clients on the international jet set. Valextra is a system of ideas, craftsmanship and culture in which aesthetic solutions run parallel to those dictated by functionality, producing a world of accessories for men and women united by the common denominator of discreet elegance.
Valextra is present in Milan, Rome, Harrods in London, Barneys in the US, the department stores Mitsukoshi, Isetan, United Arrows and Bols in Japan, Luxury House in Kiev, Andreas Murkudis in Berlin and Frame Boutique in Moscow.
The new Lotte Avenuel location is part of a strategic distribution plan within the Korean market thanks to the collaboration with Samsung Cheil Group, a partnership which commenced with the opening of Corso Como 10 and the first flagship store situated within The Shilla Hotel which opened last November.