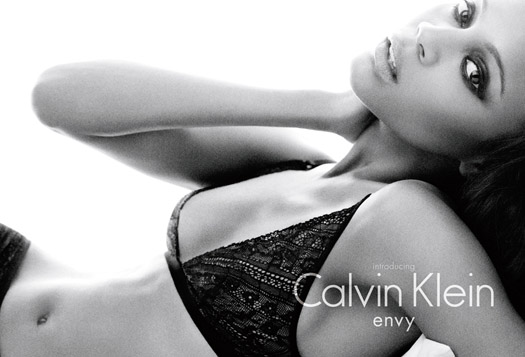 TORONTO, ON, Aug 11, 2010 / FW/ — With actress Zoe Saldana headlining the Fall 2010 global advertising campaign for Calvin Klein Underwear Envy, the brand is simultaneously launching the Calvin Klein Underwear Coverage Level System, a revolutionary new way for female consumers to more easily shop for bras and the type of coverage they are looking for.
The Fall 2010 introduction of Calvin Klein Underwear Envy, a new collection of lingerie designed to create a more revealing silhouette, completes the Calvin Klein Underwear Coverage Level System, which is organized in three distinct levels of coverage. Each level is differentiated by cup coverage, as well as strap and band width.
The new Calvin Klein Underwear Envy is Coverage Level 1, with the most minimal level of coverage for a sleek, sexy look.
Perfectly Fit is Coverage Level 2 and provides mid-level coverage for classic comfort and modern styling options.
Seductive Comfort, positioned at Coverage Level 3, offers the highest level of coverage and support.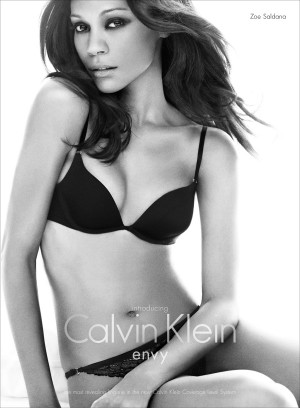 The new Calvin Klein Underwear Coverage Level System will be supported at retail via information at point of sale and on hang tags, which easily identify the item's level of coverage. Bay stores across Canada will be implementing the Coverage Level System within the coming weeks.
As announced in July at a press conference in Berlin, Germany, acclaimed actress Zoe Saldana will be featured in the women's Fall 2010 Calvin Klein Underwear global advertising campaign, which was shot by renowned fashion photographer Mikael Jansson in New York City. Additionally, beginning in mid-August, Ms. Saldana will also be featured in a digital component in which she speaks to the consumer in a beautifully directed video piece.
Ms. Saldana most recently captured the attention of moviegoers as Neytiri in "Avatar," the highest grossing film of all time and she also starred in the blockbuster action-sci-fi film "Star Trek". Ms. Saldana was most recently seen in the films "Death at A Funeral" and "The Losers."
Ms. Saldana has a long-standing relationship with the house of Calvin Klein and is frequently wardrobed by Calvin Klein Collection. Most recently, she has been wardrobed by the brands' award-winning Women's Creative Director, Francisco Costa, for the 2010 CFDA Fashion Awards, the 2010 Costume Institute Benefit at the Metropolitan Museum of Art, and at last month's amfAR's Inspiration Gala, among other personal appearances.
IMAGE CREDIT: © 2010 Mikael Jansson