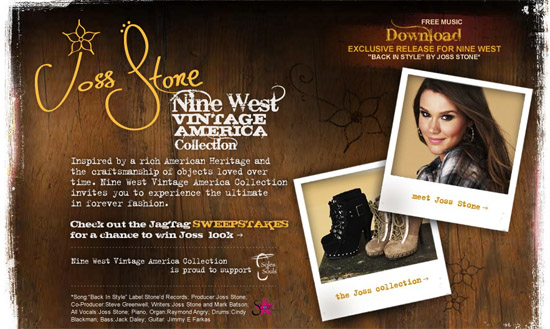 DALLAS, Aug 26, 2010 / FW/ — Thru a unique collaboration, Joss Stone and Nine West are launching an exciting new web destination offering a behind-the-scenes look in the creation of the Nine West's Fall 2010 Vintage America Collection inspired by the multi-platinum singer-songwriter.
As Nine West Creative Director Fred Allard said, "Taking inspiration from Joss' unique free-spirit, effortless creativity and beautifully designed tattoo, this collection will incorporate her mind, body and soul."
In celebration of the footwear's stylish debut, the Grammy Award-Winning recording artist wrote and recorded "Back in Style", an exclusive, new song now available for free download at www.ninewest.com/vintageamerica
"I've found that designing is just like writing a song. You're still collaborating, but it's just a different piece of art," said Joss Stone. "There's a lyric in my song 'Back in Style' that says 'I got a brand new groove, brand new shoes,' so it's perfect for my collaboration with Nine West."
Fans can also go there now to download Stone's exclusive new track "Back In Style", watch behind the scenes videos, take part in sweepstakes powered by JAGTAG mobile technology and much more
Nine West has also forged a groundbreaking partnership with innovative mobile company JAGTAG to provide new and exciting ways for fashion lovers to connect with the collection.
Consumers can now snap a photo of the specially branded JAGTAG – featuring Joss Stone's flower tattoo design – with any camera phone to receive multimedia content and automatically enter a sweepstakes to win Joss Stone's Vintage America look including shoes, clothing, jewelry and other accessories.
Those who opt in will receive several text and video messages directly from Joss Stone including performances, behind the scenes footage from her Lucky Magazine photo shoot and how-to style tips.
In addition to the website, fans can also find the special JAGTAG on Vintage America Collection shoeboxes and promotional materials in-store, as well as this fall in Lucky Magazine's October issue.