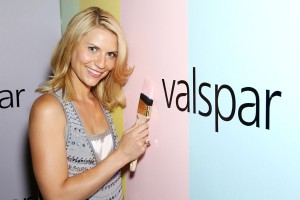 NEW YORK, Aug 18, 2010 / — Golden Globe Award winning actress Claire Danes was a "painter" for a day when she unveiled Valspar Paint's new Hi-Def Advanced Color System by painting the walls of Grand Central Terminal's Vanderbilt Hall.
Leading a group of performance painters, Claire Danes and company painted 26 freestanding walls in a kaleidoscope of Valspar colors, which by plan highlighted the rich and brilliant shades of "Hi-DEF Life", an interactive exhibition by artist Stephen Burks which incidentally was also being held at Vanderbilt Hall.
In actuality, Claire Danes did double duty yesterday; not only did she introduce Valspar Paint's Hi-Def Advanced Color System and also opened, she also opened "Life in Hi-DEF Color," wherein all the artworks unsurprisingly used Valspar Paint.
Life in Hi-DEF Color Exhibition showcases a series of portraits by Burks' studio, Readymade Projects, of everyday New Yorkers against backdrops of the rich and vibrant colors of Valspar's new Hi-DEF Advance Color System Paint.
"United States Artists (U.S.A.) is a fantastic artist-advocacy organization. I'm pleased to be working with Valspar and U.S.A. to bring Stephen Burks' beautiful installation to Grand Central. I appreciate how color can transform a space and I'm excited to use Valspar's new, richly colorful Hi-DEF Advanced Color System paints," said Claire Danes, who is also a big art supporter.
Every two hours throughout the day, Burks and his painters transformed the exhibition by painting new colors on each wall demonstrating the quick-drying, one-coat coverage of Valspar's Hi-DEF Advanced Color System technology.
The day-long event, which was free and open to the public, benefitted the non-profit artist-advocacy organization United States Artists.