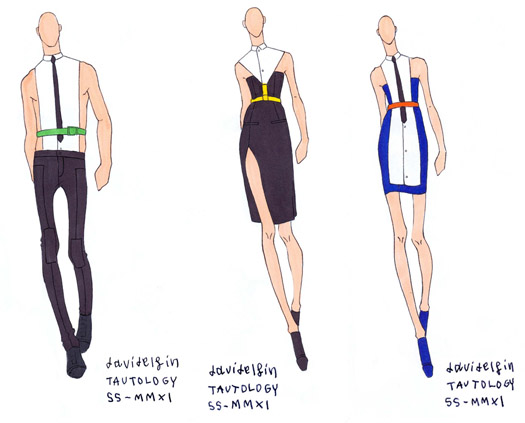 NEW YORK, Aug 31, 2010 / FW/ — Celebrating his fourth season in New York on September 16th in the Studio at Lincoln Center, Davidelfin does not need an introduction to the very savvy New York fashionistas.
Season after season, the Spanish designer's signature disassembled ensembles continue to gain recognition and support here in the US. The upcoming season will reinforce Davidelfin's true talent, not only as a designer, but as an artist.
For his Spring / Summer 2011 collection entitled "Tautology", Davidelfin's aesthetic explores the seemingly countless ways we can express a single idea. The same concepts, only translated into different forms and seen through new eyes.
Known for his experimental approach to design, Davidelfin deconstructs and re-builds silhouettes, and incorporates simple, but different fabrics throughout the collection, to bring this notion of repetition with a twist to the forefront.