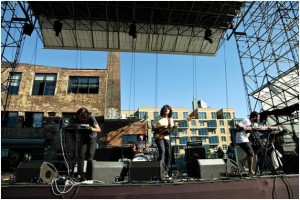 NEW YORK, Sep 2, 2010 / — British fashion retailer AllSaints Spitalfields completed a successful summer with the legendary Williamsburg summer concert series- Jelly Pool Parties – in celebrating the festival's fifth year anniversary and last hurrah at the East River Park waterfront.
As a relative newcomer to New York City, with its recently opened SoHo flagship, AllSaints hosted a VIP backstage area and a digital flipbook station every Sunday throughout the eight-week-long free concerts in Williamsburg.
Guests enjoyed unrivaled views of Manhattan's skyline from the VIP venue as well as a "backstage" experience for each performance, with complimentary cocktails from Sailor Jerry and pints by Dos Equis while listening to free music.
Attracting the likes of: fashion icon Alexa Chung, model Jessica Hart, New York City 'It' girls Becka Diamond, Cory Kennedy and Gigi Burris, supermodel Agyness Deyn, musician Ilirjana from Apache Beat, actor/comedian David Cross, actress Amber Tamblyn, as well as the New York fashion and hipster crowd.
This summer, AllSaints also partnered with Agyness Deyn and Fiona Byrne's newly launched website NAAG.com. Agyness and Fiona video blogged directly from the AllSaints site, posting video content that included interviews with notable guests such as style icon Kate Lanphear, indie-rockers !!! (chk chk chk) fashion model Jessica Hart, female hip-hop artist Kid Sister, etc, while also capturing style commentary and general happenings at each event.
Video content may be viewed at facebook/allsaints.com and NAAG.com.
Photos by: Zac Sebastian & Mike Mabes